'The Mikado' Returns to NYGASP, Ready for a New Century
Wednesday, December 28, 2016 - 10:43 AM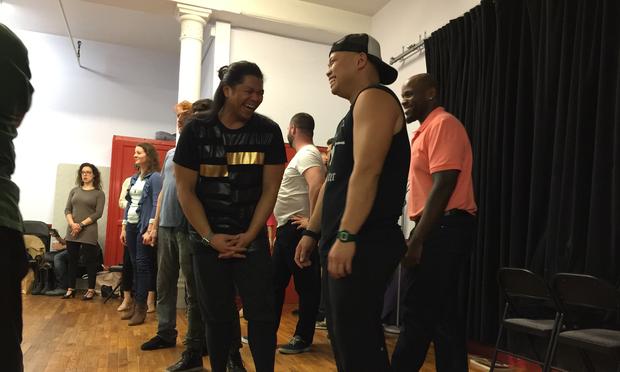 (Joseph Rubin/NYGASP)
In the first act of W.S. Gilbert and Arthur Sullivan's The Mikado, the greedy Pooh-Bah introduces himself by each of his many absurd titles. In Gilbert's original libretto, these include First Lord of the Treasury, Lord Chief Justice and Master of the Buckhounds, among others. But in a 1993 production of the comic opera for Ontario's Stratford Shakespeare Festival, actor Richard McMillan's Pooh-Bah assumed several roles that struck a particular chord with a 20th century Canadian audience: Attorney General, First Minister of Sports and Cultural Affairs, First Minister of Health and Welfare, First Minister of Transportation and Communication and more. Pooh-Bah's titles weren't the only changes made for the sake of audience enjoyment — there were references to Canadian politicians and Rubik's cubes, Niagara and American Express. One song, "Glee," was omitted entirely.
But one aspect of the performance remained virtually untouched: the exaggerated use of kitschy costumes, body language and makeup for the comedic effect of evoking "Japan." These staging choices are not new, but in recent years social and arts activists have charged them with promoting culturally insensitive "yellowface." During the Seattle Gilbert and Sullivan Society's controversial 2014 Mikado run and the backlash that followed, several companies began to rethink their approach to the satirical D'Oyly Carte opera. One, the New York Gilbert and Sullivan Players (NYGASP), shut it down altogether in 2015.
Now The Mikado has returned to NYGASP as a brand new production. Executive Director David Wannen calls it an indescribable journey of discovery. For Wannen and NYGASP, refocusing The Mikado meant taking the time to listen to the criticisms and allowing their understanding of the issues to evolve. In the wake of the Seattle controversy, Wannen says that the company was focusing on what they believe the issues to be: exaggerated makeup and stereotyped humor. "Obviously that wasn't enough," says Wannen, "and we have embarked on a new journey of performance practice now." "Yellowface" is more than just makeup, it has to do with what goes on behind the scenes, as well.
An advisory committee was formed to further the discussion about how to make the production more accessible. Eight-year NYGASP and Mikado veteran Caítlín Burke, who is of Taiwanese and Irish descent, was asked to be a part of the committee from the start. She recalls that they would gather to speak about what it means to be an Asian-American, especially in the artistic community. Burke said that no one wants to censor The Mikado, but this dialogue needs to happen. "What I've learned through this advisory committee is that when these things come up, they can't be ignored," she says. "It is important to talk about them." She also stresses the connection NYGASP has built with the general public; the company recently held a public forum about The Mikado in the 21st century.
Caítlín Burke shares why she believes long-time Gilbert & Sullivan fans will enjoy this production as well as newcomers.
Wannen credits director David Auxier with conceiving this new production. Auxier, who joined the company in 1992, had about a year to get the new production off of the ground. One of the first steps was to hold auditions to diversify the company members. As part of the effort, assistant director Kelvin Moon Loh, whom Auxier calls "a Godsend," urged the company to reach out to the Asian-American theater community via social media outlets and bloggers, which included Erin Quill. The end result was not only a more diverse cast for The Mikado, but a more diverse company overall.
They also maintained the decision to avoid makeup and costumes that tried to make actors look as if they belonged to another ethnic group. "If we were going to move forward with our new production idea," Auxier says, "putting people in Japanese costumes to play Japanese characters was not going to work."
But here's the thing about The Mikado: it isn't about Japanese people. It's a lens through which Gilbert and Sullivan criticized Victorian London. The actors don't need to look "authentic," and the cast doesn't need to be homogenous. The shuffling feet and black wigs not only fail to lend an air of authenticity to the story, they're not even necessary.
The music and libretto present another challenge. In order to keep the original, a new prologue was written that establishes The Mikado as a dream, based on Gilbert's brief and limited understanding of Japan. This mirrors reality: When Gilbert and Sullivan were writing the opera, there was a huge craze for all things Japanese. In 1884, "the Japanese Village," a cultural exhibition in the London Knightsbridge neighborhood, opened. It drew over a quarter million visitors in its first few months, including Gilbert, whose narrow conception of what "Japanese" was informed his creative process. In fact, he took the cast there to learn "Japanese" behaviors and mannerisms, including proper fan usage. This led him to set his opera in a superficial approximation of the country, which, as you might guess, isn't like Japan at all. The new prologue addresses this directly: the audience isn't looking at Japan, they're looking at one Englishman's poor idea of what "Japan" really is.
Wannen calls this production a story of our times. "We are tempted to trench down in social media warfare," he says, "and tend to group with others that reinforce our opinions and don't challenge us to find solutions with different perspectives." But he's also quick to remind us that this new Mikado production represents just the opposite. It's about people coming together and listening to one another, to build something new to be enjoyed by a wider audience for years to come.
The New York Gilbert and Sullivan Players' new production of The Mikado will run for 10 performances between Dec. 28 and Jan. 8, at the Kaye Playhouse at Hunter College. Tickets available through the NYGASP website.
More in:
James Bennett II is a staff writer for WQXR.
The WQXR e-newsletter. Show highlights, links to music news, on-demand concerts, events from The Greene Space and more.