The Fortepiano was Mozart's Forte
Thursday, November 07, 2013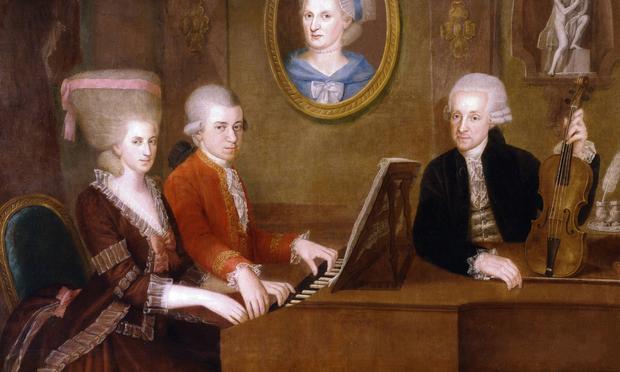 (Gemälde von Johann Nepomuk della Croce)
On this episode of Reflections from the Keyboard, David Dubal highlights Wolfgang Amadeus Mozart's solo piano works, some of which were composed when he was just 5-years-old. We hear moments from the tiny and amazing Gigue in G and the charming D Major Rondo, as well as his Fantasie in D minor performed on a fortepiano. 
WQXR presents Month of Mozart, exploring the music, mystique and majesty of the iconic composer.

More

Pianist, teacher and author David Dubal hosts a weekly exploration of classical music's piano greats.

More
In childhood Mozart was reportedly called "The Great Sponge." He was certainly the most fabled child prodigy in history, in everything, be it chess to math. He was the genius divine, but worked, without break, for his entirely short and tragic existence. Amadeus was a born natural, someone for which everything came easily – especially the piano.
Program playlist (all by Wolfgang Amadeus Mozart):
Rondo in D K 485
Alicia De Larrocha
Philips
Menuett in F K1d
Lera Auerbach
Arabesque Recordings
Menuett in F K5
Lera Auerbach
Arabesque Recordings
Klavierstuck in B K9a (5b)
Lera Auerbach
Arabesque Recordings
12 Variatrions in C, K 265 on "Ah, vois dirai-je, Maman"
Christoph Eschenbach
Philips
Piano Sonata in F, K 332: Adagio
Vladimir Horowitz
BMG Classics
Sonata No. 17 in B-flat Major, K 570: Allegretto
Heidi Lowry
Musical Heritage Society
Fantasie in D minor, K 397
Kristian Bezuidenhout
Fleur de son Classics
Piano Sonata in C, K 330: Allegro moderato
Leon Fleisher
Philips
Klavierstuck in A, K 15i-k
Lera Auerbach
Arabesque Recordings
Klavierstuck in F, K Anh.109b Nr.5 (15t)
Lera Auerbach
Arabesque Recordings
Gigue in G
Arthur Loesser
Marston Records
Klavierstuck in D minor, K15u
Lera Auerbach
Arabesque Recordings
The WQXR e-newsletter. Show highlights, links to music news, on-demand concerts, events from The Greene Space and more.