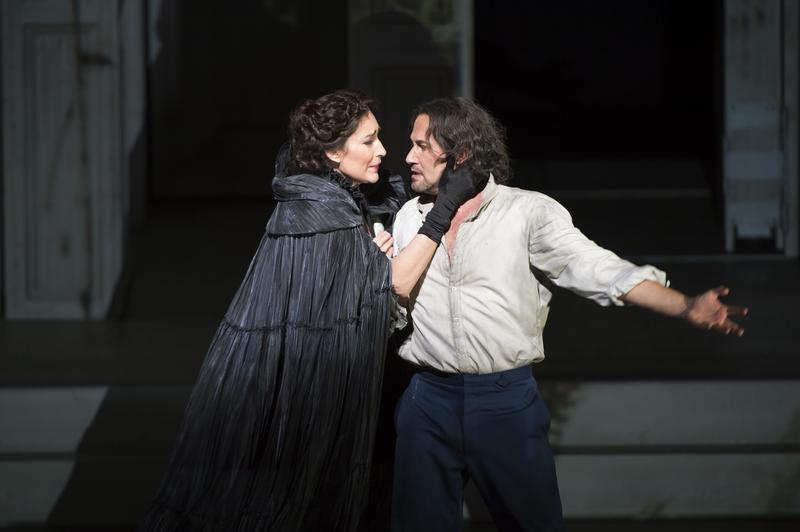 • Listen to the Operavore stream
This week on World of Opera, host Lisa Simeone presents Don Giovanni from London's Royal Opera House, Covent Garden. Baritone Mariusz Kwiecen sings the title role with sopranos Malin Byström and Véronique Gens as Donna Anna and Donna Elvira, and baritone Alex Esposito plays Leporello.
The overture to Don Giovanni begins in a dark D Minor key that seems to suggest impending tragedy. Yet, the music's quick pivot to a bouncy D Major represents only the first in the opera's compelling progression of abrupt, emotional u-turns.
A close look at Mozart's own description of the opera warns us not to make any assumptions about its dramatic character. He called it a "dramma giocoso" or a "playful drama." That at first seems to be a severe case of misdirection. The action begins with an attempted rape, quickly followed by a cold-blooded murder, and Don Giovanni is a genuine villain. He's a serial womanizer, a rapist, a killer, and that's just touching the surface.
But, the opera also has a strong comic element driven by Giovanni's devious schemes and high jinx. As he heaps scorn on his pitiable victims, laughing at them all the while, audiences tend to laugh right along with him. Still, Lorenzo da Ponte's libretto and Mozart's matchless music ensure that the dire consequences of those schemes are as evident as their humor.
Don Giovanni is routinely listed among the finest operas ever composed. That's a pretty bold statement, but however you rank it, Mozart's opera is a brilliant combination of stark human tragedy and touching comedy, set to music of limitless genius.
Cast:
Conductor: Nicola Luisotti
Don Giovanni: Mariusz Kwiecen
Donna Anna: Malin Byström
Donna Elvira: Véronique Gens
Leporello: Alex Esposito
Don Ottavio: Antonio Poli
Zerlina: Elizabeth Watts
Masetto: Dawid Kimberg
The Commendatore: Alexander Tsymbalyuk
Royal Orchestra and Chorus