7 Noteworthy Inaugurations Featuring Classical Music
Wednesday, January 18, 2017 - 12:00 AM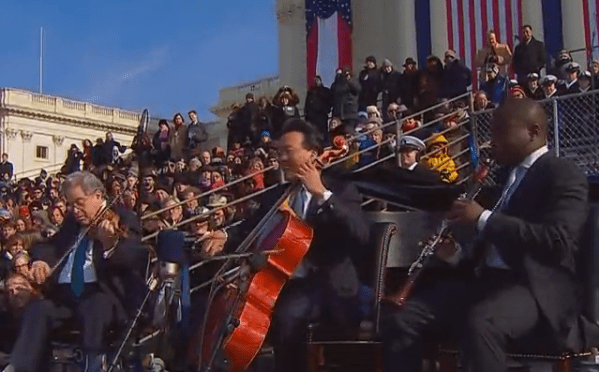 (Joint Congressional Committee on Inaugural Ceremonies)
On Friday, President-elect Donald Trump will formally drop the "elect" from his title as he assumes his duties as the 45th president of the United States.
Like inaugural ceremonies of years past, Trump's ceremony will include live music, although there is still some confusion about who is actually going to be present. But there are some confirmed names, including Jackie Evancho, the Mormon Tabernacle Choir and — most recently — the Piano Guys. Two of these acts wade into classical crossover territory and one has been doing choral arrangements  for the president for decades.
Ahead of Friday's swearing-in, let's look back at the classical presence during some more recent inaugural events (plus one precedent-setting honorable mention).
United States Marine Band (1801)
During his tenure as president, Thomas Jefferson also assumed the role of music lover in chief. An amateur violinist and cellist, Jefferson once called music "the favorite passion of my soul." So it should come as no surprise that Jefferson needed music to be front and center at his inauguration. Joseph Haydn was among Jefferson's favorite composers, so we'd like to think that Joe was just too busy to journey to D.C. to conduct for one of his biggest fans. Instead, Jefferson was the first president to have the Marine Band play at the inauguration and gave it the nickname of "the President's own." The band has been the longest running inaugural performer since.
Marian Anderson (1957)
Marian Anderson had a long relationship with performances in the capital. A fitting place to start is April 9, 1939. That month, as Hitler's armies were preparing to invade Poland, Howard University invited Marian Anderson to Washington in order to sing for its concert series. Such an immense talent was bound to attract an equally great crowd, but the most fitting venue — the Daughters of the American Revolution's Constitution Hall — rejected Anderson's presence in the concert hall. The nearby segregated Central High School also denied the presence of an international opera star for the same reason. Instead, she performed on the steps of the Lincoln Memorial, for a crowd of 75,000 people.
Advances in the tenacious struggle for social justice and equality were reflected 18 years later, when Anderson was invited back to Washington to sing the national anthem at the second inauguration ceremony of President Dwight D. Eisenhower. Four years later, she graced the Capitol again to perform at the Kennedy inauguration.
Mormon Tabernacle Choir (1965)
The Mormon Tabernacle Choir is no stranger to a presidential audience. It has performed for the chief executive 11 times in its history, the first being at the Taft White House in 1911. The first of their five inaugural performances took place in 1965, at the inaugural ceremony for a recently elected Lyndon B. Johnson. The choir's selection for that day was "This is my Country," with Richard P. Condie conducting. Since Johnson, it has performed at the inaugural ceremonies for Presidents Nixon, Reagan and George H.W. Bush and his son. With a scheduled performance at the swearing-in of Trump, the Mormon Tabernacle Choir will chalk up a inaugural sixth performance in its storied history.
("This is My Country" can be heard during the first two minutes of the inauguration video below.)
Jessye Norman (1985)
Ronald Reagan's second inauguration was the coldest on record — as if a 7 degree noon temperature wasn't frigid enough, wind temperatures dipped as low as negative 20 degrees that afternoon. Luckily, the inauguration particulars are flexible, so the public ceremony was moved indoors to the Capitol Rotunda. Soprano Jessye Norman must have been delighted, as the decision meant she could focus on her voice instead of her internal temperature. After Georgetown University President Rev. Timothy Healy's invocation, Norman took to the podium with the audience huddled around her and sang an Aaron Copland arrangement of the Shaker folk song "Simple Gifts."
(Skip to 8:55 for Norman's performance.)
Marilyn Horne (1993)
Eight years after Reagan's second inauguration, "Simple Gifts" was sung again, this time under more favorable weather conditions. This time, it was Marilyn Horne who was given the honor. She followed that performance with that of another song, Portia Nelson's "Make a Rainbow."
Susan Graham and Denyce Graves (2005)
When George W. Bush won a second term in office, inauguration organizers must have decided to double down on the event's operatic presence. They requested the talents of mezzo-sopranos Susan Graham and Denyce Graves, who sang "God Bless this House" and "American Anthem," respectively. The duo shared their voices on a huge stage, literally — Bush's second ceremony saw the largest inauguration platform that has ever been created.
Yo-Yo Ma, Itzhak Perlman, Anthony McGill and Gabriela Montero (2009)
In 2008, "change" was one of Barack Obama's campaign buzzwords. His first inauguration committee took that to heart and broke from the previous operatic trend by opting for a chamber performance. The quartet of Yo-Yo Ma, Itzhak Perlman, Anthony McGill and Gabriela Montero premiered a new piece from composer John Williams titled "Air and Simple Gifts," making Obama the third of the last five presidents to incorporate that old Shaker folk tune into the inaugural festivities. This time, the performance was actually recorded before the ceremony — the day's freezing temperatures would have proven just too much for the live instruments.
More in:
James Bennett II is a staff writer for WQXR.
The WQXR e-newsletter. Show highlights, links to music news, on-demand concerts, events from The Greene Space and more.