Musical Polyglots
Saturday, March 15, 2014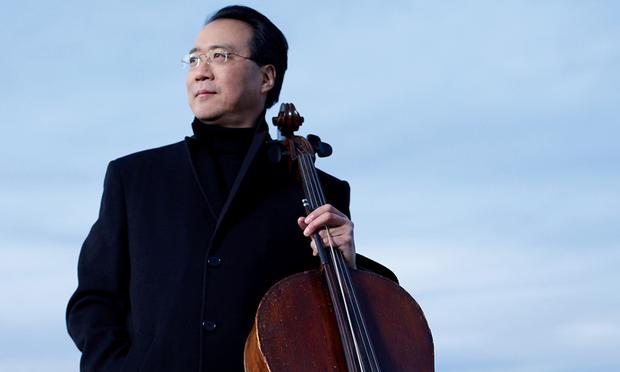 (Michael O'Neill/courtesy of the artist)
Most Americans only dabble with words or phrases that aren't in English. Less than 20 percent of Americans are bilingual. Music presents the same challenge for musicians. A musician fluent in Schumann lieder may not be fluent in the American Songbook. This week, host Terrance McKnight considers musical polyglots – musicians who depart from this trend and are fluent in various musical dialects and performance practices.
Those with the talent and courage to explore different musical traditions run a wide gamut: A few years ago, violinist Hillary Hahn improvised with songwriter Josh Ritter (below, right). Soprano Jessye Norman has recorded American popular songs. In her younger days, Barbara Streisand's "Classical Barbara" featured her singing French and German Art Songs.
Such musicians have always attempted to communicate across the rhythmic and melodic divide, and this week's show features a great example: cellist Yo-Yo Ma. Early in his career, Ma was known for playing Bach and other standard repertoire, but as we hear, his 30-year career has since spanned the musical globe.
Playlist:
Invitacion al Danzon
Pacquito D'Rivera
Yo-Yo Ma, cello
PacquitonD'Rivera, clarinet
Alon Yavnai, piano
Sony Classical

Goldberg Variations, BWV 988: Aria
Johann Sebastian Bach
Amsterdam Baroque Orchestra
Ton Koopman, conductor
Yo-Yo Ma, cello
Ton Koopman, keyboard
CBS/Sony

Seven Tunes: Tibetan Dance
Bright Sheng
Yo-Yo, Ma, Cello
CBS/Sony

Baroque in Rhythm
Claude Bolling
Yo-Yo Ma, cello
Claude Bolling, piano
CBS/Sony

Piano Quartet No 1 in C minor, Op 15
Emmanuel Ax, piano
Isaac Stern, violin
Jaime LAredo, viola
Yo-Yo Ma, cello
CBS/Sony

Samson: Let the Bright Seraphim
GF Handel
Orchestra of St. Lukes
John Nelson, conductor
Wynton Marsalis, trumpet
Kathleen Battle, soprano
Anthony Newman, harpsichord
CBS/Sony

First Impression
Edgar Meyer
Mark O'Connor, violin
Yo-Yo, Ma, Cello
Edgar Meyer, piano
CBS/Sony

Song of Eight Unruly Tipsy Poets
Zhou Long
Chicago Symphony Orchestra
Miguel Harth-Bedoya, condcutor
Yo-Yo, Ma, Cello
Silk Road Ensemble
CBS/Sony

Suite for Violin, Piano, and  Small Orchestra
Lou Harrison
Uncredited Orchestra
Lucy Chapman Stolzman, violin
Keith Jarrett, piano
New World
The WQXR e-newsletter. Show highlights, links to music news, on-demand concerts, events from The Greene Space and more.