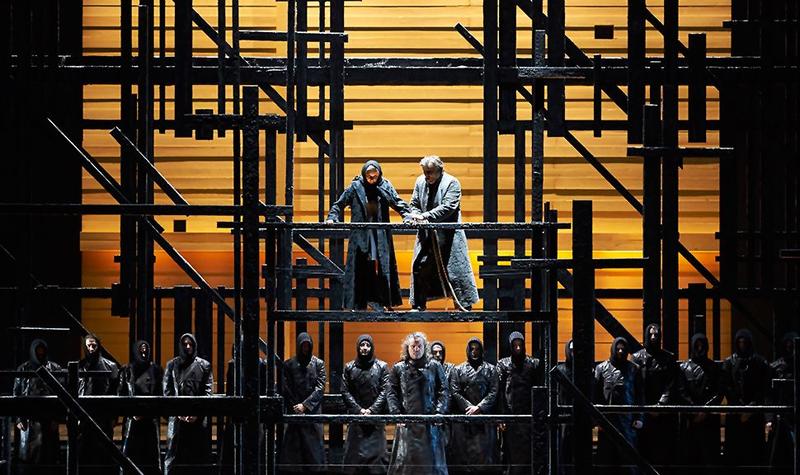 Mussorgsky followed up on his popular epic Boris Godunov with his colorful drama, Kovanshchina, which delves deeply into a complex and fascinating era of Russian history. Along with a number of striking characters, Khovanshchina also delivers some of the composer's most familiar orchestral numbers, including "Dawn Over the Moscow River."
It deals with period of Russian History when Tsar Peter the Great came to power in the late 1600s. Telling that complex story was a tall order, especially because Russian officials prohibited the depiction of the ruling family on stage. And, perhaps unwisely, Mussorgsky took on the double challenge of writing the opera's libretto, as well as its music. He never managed it, leaving the opera not quite finished and completely unorchestrated when he died in 1881.
Fortunately, the powerful score Mussorgsky left behind has since been filled out and orchestrated in two different versions, one by Rimsky-Korskov made shortly after Mussorgsky's death, and another put together by Shostakovich in 1958. On World of Opera, host Lisa Simeone brings us the Shostakovich orchestration of Mussorgsky's Khovanshchina from the Vienna State Opera. The stars include bass Ferruccio Furlanetto, mezzo-soprano Elena Maximova and tenor Christopher Ventris, in a performance led by conductor Semyon Bychkov.
Cast:
Ivan Khovansky: Ferruccio Furlanetto (bass)
Marfa: Elena Maximova (mezzo-soprano)
Andrei Khovansky: Christopher Ventris (tenor)
Dosifei: Ain Anger (bass)
Golitsin: Herbert Lippert (tenjor)
Shaklovity: Sergei Murzaev (bass-baritone)
Susanna: Lydia Rathkolb (soprano)
Scribe: Norbert Ernst (tenor)
Emma: Caroline Wenborne (soprano)
Vienna State Opera Orchestra and Chorus
Semyon Bychkov, conductor