My Favorite Christmas Carol (This Year)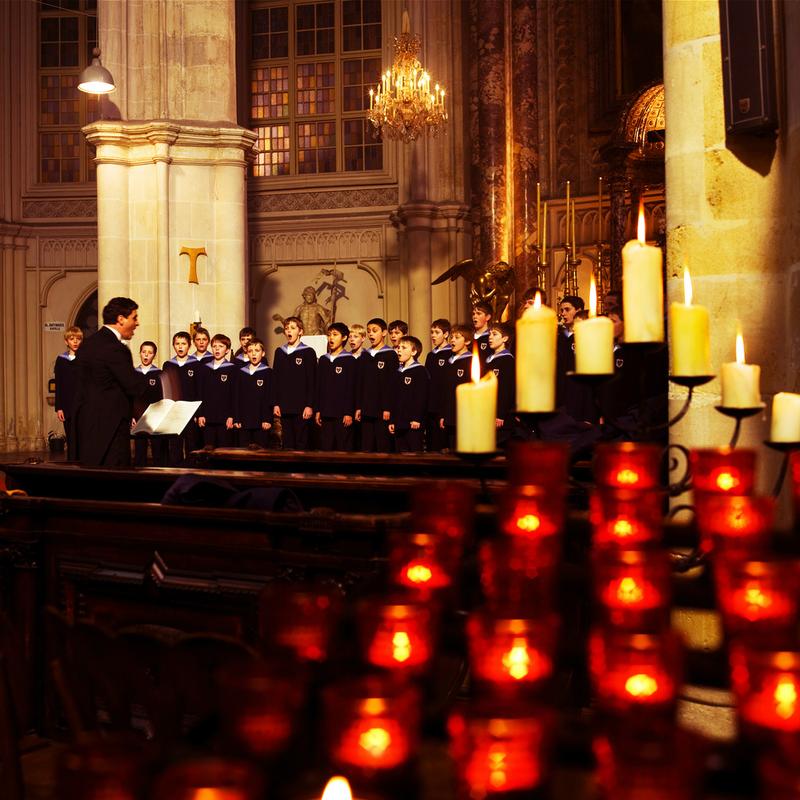 It usually happens around Thanksgiving. Some Christmas tune starts running around in my head and just doesn't let go.
This year, it's "This Little Babe," from Benjamin Britten's "A Ceremony of Carols." The text is from a poem by 16th-century English Jesuit priest Robert Southwell.
Britten wrote "A Ceremony of Carols" in 1942 while at sea, traveling back to his native England, after spending about three years in North America. He and his partner, the tenor Peter Pears, took passage on a Swedish cargo ship called the Alex Johnson, which made a stop in Halifax, Nova Scotia. There, Britten picked up an anthology, The English Galaxy of Shorter Poems, which had in it poems by Southwell, two of which Britten incorporated into his new choral work.
Robert Southwell is not particularly well known today, but his story is remarkable. When he was ordained in France in 1584, it was a capital crime under the rule of Elizabeth I for native Englishmen to enter the Roman Catholic priesthood and remain on English soil for more than forty days. But Southwell returned to his home country two years later as an underground Catholic missionary. After six years of such work, he was arrested and tortured, and spent three years as a prisoner in the Tower of London. In 1595, at the age of around 35, Robert Southwell was tried and convicted on charges of treason, and was hanged, drawn, and quartered. His writings, which were very popular for several decades after his death, are said to have influenced, among others, Shakespeare and Donne. In 1970, he was canonized by Pope Paul VI.
One of the Southwell poems in the anthology Benjamin Britten picked up in Halifax in 1942 is "Newe Heaven, Newe Warre." The second half of this poem is the text of "This Little Babe." Southwell portrays the story of Jesus's birth as a sneak attack on the forces of evil. Who would expect God to send a baby to vanquish Satan? Every element of the Christmas story is a metaphor of paradoxical spiritual warfare.
Staging a Battle with a Harp
In his musical setting, Britten found ways to reflect Southwell's approach. The piece opens in a minor key with an urgent battle fanfare of three-note chords which, in any other context, would be sounded on trumpets. But for this infant's sneak attack, it's played on harp, the instrument of lullabies (and the only instrument in the entire "Ceremony" score). In the second and third stanzas, Britten uses his melody as a canon in stretto, a musical technique in which the succeeding entrances of the melody are right on the heels of those that come before. Is it the clash of battle? The echoes of a celestial choir?
It's an incredible effect, though it renders the text unintelligible, so make sure you can see the words when you listen. In the fourth and final stanza, as Southwell entreats the faithful to join the heavenly fight on Earth, Britten for the first time places the voices in harmony, and concludes, with Southwell, on a note of joyful victory.
"A Ceremony of Carols" is usually performed today by children's choirs, but Britten conceived it for a women's chorus, and it was a women's chorus that gave the first performance of the work in December of 1942 and its first broadcast performance on the BBC in early 1943. But even before those first performances, Britten realized that children could effectively sing the work. Later that year, Britten augmented the Ceremony with another carol, a solo interlude for harp, and the Procession and Recession which frame the piece. In December of 1943, a Welsh boy's choir gave the first performance of the work as we know it today.
I think I sang "This Little Babe" exactly once, in a children's choir in my hometown church decades ago. The tune has never left me, but sometime in the last dozen years or so, I was struck – stunned, really – by the richness and beauty of Southwell's poetry and way Britten conveys the emotions of Southwell's words in music. The battle of good and evil fought and won by a baby born in obscure poverty; the story of that battle told not by a huge orchestra and massive voices, but by a harp and a choir of children. "The gates of Hell He will surprise," writes Southwell. I find myself surprised, and deeply moved, by "This Little Babe" every time I hear it.
This little Babe so few days old is come to rifle Satan's fold;

All hell doth at his presence quake, though he himself for cold do shake;

For in this weak unarmèd wise the gates of hell he will surprise.

 

With tears he fights and wins the field, his naked breast stands for a shield;

His battering shot are babish cries, his arrows looks of weeping eyes,

His martial ensigns Cold and Need, and feeble Flesh his warrior's steed.

 

His camp is pitchèd in a stall, his bulwark but a broken wall;

The crib his trench, haystacks his stakes; of shepherds he his muster makes;

And thus, as sure his foe to wound, the angels' trumps alarum sound.

 

My soul, with Christ join thou in fight, stick to the tents that he hath pight.

Within his crib is surest ward, this little Babe will be thy guard.

If thou wilt foil thy foes with joy, then flit not from this heavenly Boy.
There are lots of "This Little Babe" performances on YouTube, and while the choristers here sing Southwell's words with a French accent, it doesn't seem inappropriate, since Southwell was ordained in France. The choral textures are very clear, and you get to see a lot of the harpist, who provides not only the harmony, but the rhythmic pulse and urgency that make the piece so exciting.