National Sawdust Broadens Its Scope in Second Season
Monday, August 15, 2016 - 09:00 AM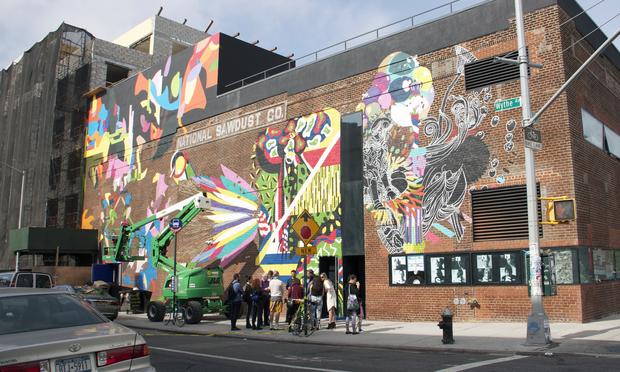 (Kim Nowacki/WQXR)
National Sawdust, the Williamsburg-based art and music venue that quickly established itself as one of the more ambitious and enterprising presenters in the city, announced its second season Monday with an even broader mission.
In a release, the institution promised to be a leading incubator of new work, including musical theater, opera, a festival celebrating the sounds of Africa and a new online arts journal.
"National Sawdust facilitates a new type of community by bringing together artists from around the world in exciting composition-based projects, teaching opportunities, activism, cultural exchanges and hands-on management experience," said Paola Prestini, National Sawdust's creative and executive director, in a statement. "Through this cultural synthesis, artists leave lasting impressions on one another, become more versatile and resilient professionals, and create works that reflect a plural understanding of American society."
The arts journal will be run by veteran writer and editor Steve Smith — formerly of The New York Times, Time Out New York and The Boston Globe — who will take on the new position of director of publications. The journal will include long-form articles, interviews with artists, criticism and other coverage of the arts and music community.
In an email, Smith explained the genesis of the publication: "In brainstorming with Paola more than three years ago about what would become National Sawdust, an initiative to integrate journalism and criticism into the organization's mix was present from the very start. And at a time when the traditional mass media are faced with impossibly hard choices simply in order to survive, the need for new outlets able to cover a flourishing aesthetic community down to the grassroots level has never been more pressing."
Meanwhile, the first musical to be showcased in The Beginning Stages project, to help develop Broadway-type productions, will be Sama: An American Requiem, about the Occupy Wall Street movement in 2011. As such it will receive a five-day workshop, including stage readings, open rehearsals and talk backs in September.
Other performance highlights of the season include celebrations of several composers, such as Philip Glass, who turns 80 in 2017; Martin Bresnick; Robert Sirota; and John Zorn. Two Louis Andriessen chamber operas will receive productions, as well as the world premiere of Juliet Palmer's a cappella opera, Sweat. A Winterreise Festival features the U.S. premiere of A Winterreise for the 21st Century with Dutch singer Wende. The FERUS Festival, focusing on the integration of music, theater and visual art, and the Percussion Festival will both return. The inaugural Nu-Wave Africa Fest, produced by South African violinist Kyla-rose Smith, will bring a week's worth of performances to National Sawdust in summer 2017.
The season begins on Oct. 1 with an evening exploring a range of themes from the Black Lives Matter movement to global examples of lullabies. Performers include Q2 Music host Helga Davis, bass-baritone Davone Tines and artist Sophia Brous.
Davis, Times and Brous will all be in residence at National Sawdust during the 2016–17 season, as they join a long list including contemporary opera presenter Beth Morrison Projects; groups yMusic and wild Up; composers Julia Holter, Yuka Honda, Kelsey Lu and Ellen Reid; and the opera director R.B. Schlather, who will lead productions of Glass's A Madrigal Opera, Vasco Mendonça's The House Taken Over and Handel's Ariodante. 
In addition, Davis, Holter, Honda as well as the vocalist Theo Bleckman, have been commissioned to create new works. 
A new class of artists — pianist and composer Timo Andres, guitarist and songwriter Jeff McErlain, music writer Ric Leichtung, singer and songwriter Caroline Polachek, and electric-acoustic composer and performer Sxip Shirey — will join Bleckmann, counter-tenor Anthony Roth Constanzo, cellist Jeffrey Zeigler and others as curators, who will collaborate with National Sawdust staff in programming upcoming events.  
Visit nationalsawdust.org for a full schedule.
A previous version of this article misspelled the names of Sophia Brous and Sxip Shirey.
More in:
The WQXR e-newsletter. Show highlights, links to music news, on-demand concerts, events from The Greene Space and more.