Episode #1964
Revisiting the New York International Piano Competition
Wednesday, September 30, 2015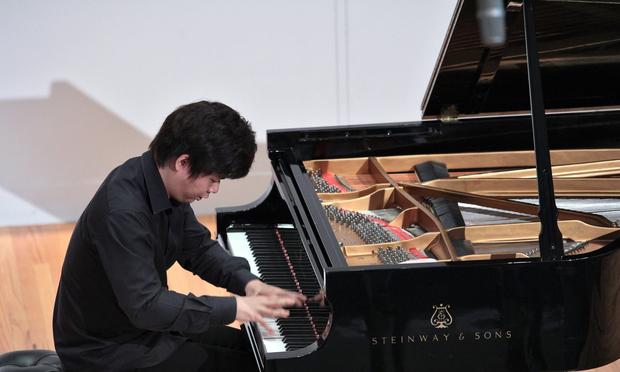 (Stecher and Horowitz Foundation)
The Young Artists Showcase this week recalls the seventh biennial New York International Piano Competition from June 2014. Young keyboard prodigies from all over the world participate in this highly dynamic competition held at the Manhattan School of Music. There are a number of unique features at the event. For starters, there are no eliminations. All 22 contestants play three rounds, each bringing home a scholarship.
The bronze medalist was 19-year-old Yilin Liu, originally from Shanghai, who is now studying at the San Francisco Conservatory of Music. A requirement at the auditions is the performance of a major contemporary work and for Liu, her composer of choice was Ligeti's Musica Ricerata. Another requirement of the competition is to play a Chopin Etude. Seol-Hwa Kim, 21, from Seoul, chose to play Chopin's C Major Op. 10 No. 1, which helped help him earn fourth place.
The competition also incorporates an element that distinguishes itself from others. When the young artists arrive, they are randomly assigned partners and within a few days must try to develop the ease and confidence of a seasoned four-hand team. The winning twosome was 17-year-old Max Ma from Washington State, and 21-year-old Thomas Steigerwald from Texas. They performed Schubert's D Major Rondo with remarkable grace and ensemble precision.
South Korean pianist Jun Hwi Cho took home the winner's title, performing works by Beethoven, Messiaen and Chopin. 
Program playlist:
Frederic Chopin: Etude No. 1 in C Major Op. 10
— Seul Hwa Kim, piano.
Gyorgy Ligeti: Musica Ricercata
— Yilin Liu, piano.
Schubert:D Major Rondo
— Max Ma, piano; Thomas Steigerwalt, piano.
Gabriela Lena Frank: Nocturno Nasqueno
—Daniel Kim, piano.
Ludwig van Beethoven: C Major Sonata, Op 2 No. 3
Olivier Messaien: Vingt Regards sur l'Enfant Jesus
Frederic Chopin: Polonaise in A flat, Op. 53
— Jun Hwi Cho, piano.
The WQXR e-newsletter. Show highlights, links to music news, on-demand concerts, events from The Greene Space and more.