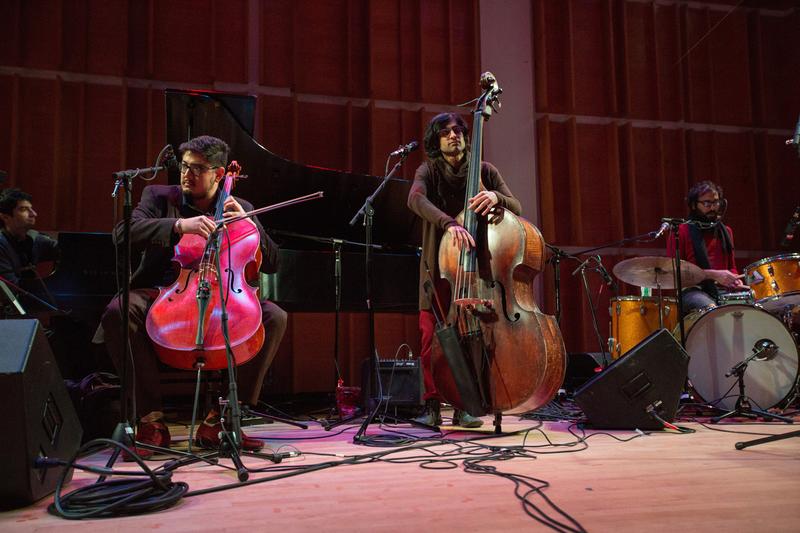 On Feb. 1, post-minimal jazz trio Dawn of Midi joined the newly-formed chamber quartet Bright Wave for an evening of world premiere collaborations as part of Kaufman Music Center's 2014 Ecstatic Music Festival. The evening included a performance of Dawn of Midi's new album "Dysnomia," in its entirety.
The members of Dawn of Midi came together while studying at the California Institute of the Arts. Their debut record "Dysnomia" – released in August – turns the convention of a piano trio on its head. Though all acoustic, the trio's mechanistic layering of rhythms and unusual use of muted strings makes for a sound closer to minimalist electronica than jazz. "Dysnomia" reached #2 on iTunes list of top electronic albums and was deconstructed on a recent Radiolab podcast.
Bright Wave is the new ensemble of composer William Brittelle, songwriter Aaron Roche, electronic drummer Anthony LaMarca and violinist-composer Michi Wiancko. The music draws from elements of noise rock, dance music and contemporary classical as well as from the art song tradition. For this performance, the quartet was joined by bassist Doug Balliett and cellist Paul Wiancko.
Complete Program:
Bright Wave
Michi Wiancko - Tiny Skies
Aaron Roche - New Work
William Brittelle - Alive in the Electric Snow Dream
Bright Wave & Dawn of Midi
Kanye Demands a Son
Dawn of Midi
Dawn of Midi - Dysnomia
Engineering Credits: Damon Whittemore (technical director, music mix) and Noriko Okabe