New York Now
On-Demand Audio: 'Andriessen 75' Pushes the Violin Envelope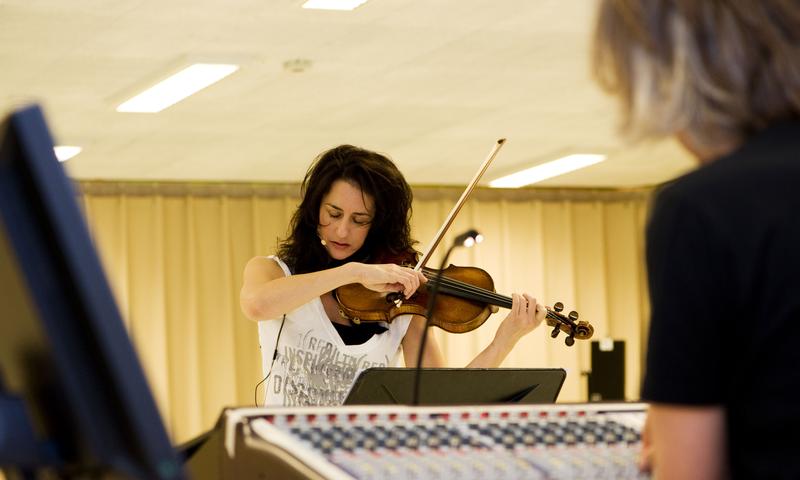 Tuesday, July 8 at 11 am ET, Phil Kline continues his presentation of the "Andriessen 75" festival in Washington, D.C. with a concert titled "Roadmaps and Diaries II." The performance features solo violin music that blurs the line between the acoustic and electric with works by Andriessen, Julia Wolfe, Michael Gordon and Donnacha Dennehy. The program was performed by Monica Germino and sound-designed by Frank van der Weij. 
Irish composer Donnacha Dennehy's Overstrung for violin and tape opened the program. Written specifically for Germino, the music is built largely on the overtone series and harmonics. Next came the world premiere of Dolorosa, a song for violin and augmented voice by Australian composer Kate Moore.
The American premiere of with a blue dress on by Bang on a Can's Julia Wolfe came next, followed by Andriessen's piece Xenia, a wailing, pitch-bending work with a voice part. The performance closed with Michael Gordon's overdriven Industry (audio not available) originally written for electric cello, a work that seems to distort and warp as it happens.
The festival was developed and curated by Armando Bayolo, founder of the Great Noise Ensemble and new-music curator at the Atlas Performing Arts Center. 
Select excerpts from the program are available below: 
Donnacha Dennehy  – Overstrung for amplified acoustic violin and soundtrack

Kate Moore  – Dolorosa for violin and augmented voice

Julia Wolfe  – with a blue dress on for violin/voice solo, 8 recorded tracks and sound design

Louis Andriessen  – Xenia for violin and voice

Concert audio recorded live and mixed by Brian Knox.