Orpheus, Descending and Ascending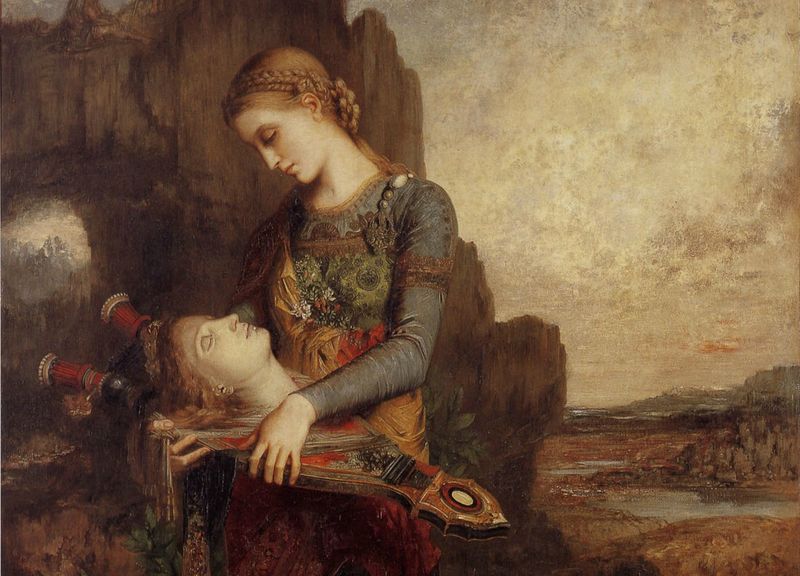 As one year ends and another commences, I think of new beginnings and perhaps of looking back. And, being an opera guy, I also think of the character of Orpheus. Why, you ask? In looking at the beginnings of the art form of opera, Orpheus was there from the start as the protagonist of some of the earliest works. And if anyone is well-advised to not look back, it is Orpheus!
Orpheus, in Greek myth, is the god of music and plays songs both beautiful and mournful. His most famous exploit is when he goes down to the underworld to rescue his wife Eurydice after she died after being bitten by a snake. His music is so gorgeous that he convinces Pluto to let him lead his wife out of Hades on the condition that he not look back. Orpheus abides by this restriction until the last moment, when he turns to see if she has successfully made it out. In so doing, he loses her.
There are versions in opera and literature, with a sad ending, in which Orpheus looks back and Eurydice dies. Other versions opt for a happy ending in which the couple are reunited. But all of them seem to have, as a requirement, remarkably beautiful music suitable to the protagonist.
Monteverdi's La Favola d'Orfeo (1607) was not the very first opera, which came a decade or so earlier, but it was the first great opera and it continues to be performed today. In this work, for the first time, an opera was not merely words and music performed in the same place but, rather, a seamless combination of the two. The sound and meaning of the words inspired the kind of music the composer wrote. This aspect of opera, which seems so obvious today, was revolutionary in its time. In effect, the words by librettist Alessandro Striggio were an invitation to the composer to try out all kinds of ideas.
Probably the most famous operatic telling of the story of Orpheus is by Christoph Willibald Gluck. He premiered his Italian-language opera Orfeo ed Euridice in Vienna in 1762 and there is a happy ending. Orpheus does look back and, as such, Eurydice would be doomed to die, but Eros intervenes and saves her, guaranteeing a happy ending. Gluck created a French version, Orphée et Eurydice, which premiered in 1764. This version has a tragic ending as Orpheus looks back and, to his horror, sees Eurydice die.  
A number of years ago, James Levine was preparing to conduct Gluck's Italian version in a new production starring Lorraine Hunt Lieberson (who, sadly, died before she could do it). He said to me, "There is no better opera." I found Levine's usage interesting because he is a man who knows exactly what he is saying. This would mean that, in his estimation, there are other operas that are as good as this one but none is better. What do you think?
I saw Orfeo ed Euridice at the Met in the late 1960s, when I was 12. It was, in many ways, an ideal work for someone just getting started with opera. The story was straightforward and there was inherent dramatic tension: "Would Orfeo look back and lose Euridice, or would he successfully lead her out of the underworld?" The issue of doing what you are told (and the consequences that come if you do not) was something a child could connect with. The most famous aria, "Che farò senza Euridice?" is gorgeous and immediate. My Orfeo back then was Grace Bumbry, who later told me that, in a costume of silver boots and cape, "I looked like Muhammad Ali before a fight." Here she is singing this great aria:
Haydn wrote a version in 1791 that I do not know. Its full title is L'anima del filosofo, ossia Orfeo ed Euridice (The Spirit of the Philosopher, or Orpheus and Eurydice). The ending differs from the Gluck, according to the Oxford Dictionary of Opera Characters, in that Euridice "deliberately walks in front of Orfeo to compel him to look at her. She dies and he, distraught, takes poison."
Jacques Offenbach's operetta Orphée aux Enfers (Orpheus in the Underworld) premiered in 1858 and was both a satire of the Gluck and an opportunity to lampoon contemporary French society, especially the bourgeoise attitudes of the Second Empire. Its most famous music comes in the second act and is officially called the "Infernal Galop." You would know it as the irresistible "Can-Can." In this story, Orpheus and Eurydice are married and hate one another. He is in love with a shepherdess and she is in love with a shepherd. Offenbach's operetta has a character named Public Opinion, sung by a mezzo-soprano in a voice that is part reason and part opprobrium. Orpheus is a violinist and one of the running gags in this show is how bad his playing is.
I want to do what Orpheus should have always done: look forward. My first opera performance of 2014 will be Marc-Antoine Charpentier's La descente d'Orphée aux enfers, which the always-enterprising Gotham Chamber Opera will present in a co-production with Trinity Wall Street at St. Paul's Chapel in lower Manhattan (January 1-5). The conductor is Neal Goren, the director is Andrew Eggert and the leads are played by Daniel Curran and Jamilyn Manning-White.
Gotham Chamber Opera is one of our finest companies, one to be treasured and supported if New York City wants to retain its claim as an opera capital. That is a good, forward-looking New Year's resolution.