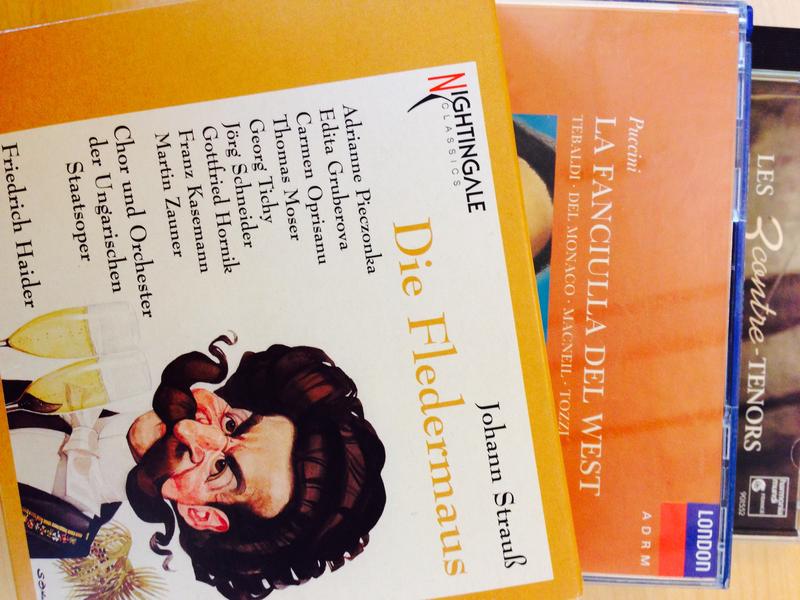 This week on Operavore we're ringing in the New Year with some of your and our favorite party records.
Over the last two weeks we've been collecting suggestions from Operavore guests and listeners for our year-end party playlist. Not to boast, but we're pretty confident with our final selection of records. With contributions from Marilyn Horne, bass-baritone Eric Owens, opera blogger and critic James Jordon, and some of you, how could our party records show be anything short of fabulous?
To kick the party off, scroll to the bottom and see soprano Yma Sumac hit those high notes live in Moscow, 1960. 
Playlist:
 Traditional
"Auld Lang Syne"
Ludwig van Beethoven, arranger
The New York Vocal Arts Ensemble
Arabesque Recordings 6672 
Traditional
"Auld Lang Syne"
Carl Davis, conductor
Royal Philharmonic Orchestra
Techniche Label OMP 
Giacomo Puccini
La Fanciulla del West "Or son sei mesi"
Santa Cecilia Academy of Rome Orchestra and Chorus
Franco Capuana, conductor
Renata Tebaldi, soprano
Mario Del Monaco, tenor
Decca 421595
Georges Bizet
Carmen "Habanera"
Orchestre Philharmonique de Camargue
Reinhardt Wagner, conductor
Andreas Scholl, countertenor
Harmonia Mundi France 901552 
"Tango Appasionate" ("Passionate Tango")
from the album Tanz mit mir: Yiddish Ballroom Dance
Mary Soriano
Israel Music 5113/4
"Zing Feigale Zing" ("Sing, Birdie, Sing")
The Feder Sisters
from the album Tanz mit mir: Yiddish Ballroom Dance
Israel Music 5113/4 
Gustave Charpentier
Louise "Depuis le jour"
RCA Italian Opera Orchestra
Francesco Molinari-Pradelli, conductor
Leontyne Price, soprano
RCA Victor Gold Seal 61236 
Irving Berlin
Annie Get Your Gun "Anything You Can Do"
Vienna Philharmonic Orchestra
Herbert von Karajan, conductor
Giulietta Simionato, mezzo-soprano
Ettore Bastianini, baritone
Decca 421046 
Jerome Kern and Oscar Hammerstein
Show Boat "Bill"
Lehman Engel Orchestra
Lehman Engel, conductor
Anna Moffo, soprano
Reader's Digest Music
Moisés Vivanco
"Gopher Mambo"
Billy May Orchestra
Billy May, conductor
Yma Sumac, soprano
Capitol Records
Richard Rodgers and Oscar Hammerstein II
Carousel "If I loved you"
New Philharmonia Orchestra
Richard Bonynge, conductor
Renata Tebaldi, soprano
Decca 452 472
Bedřich Smetana
The Bartered Bride "It's beer, it certainly is a gift from heaven"
Czech Philharmonic Orchestra
Prague Philharmonic Choir
Zdenek Kosler, conductor
Supraphon 3707-2
Die Fledermaus "'Im Feuerstrom der Reben"
Bavarian State Opera Orchestra
Bavarian State Opera Chorus
Carlos Kleiber, conductor
Deutsche Grammophon 1433502 
Traditional
"Auld Lang Syne"
Carl Davis, conductor
Royal Philharmonic Orchestra
Techniche Label OMP