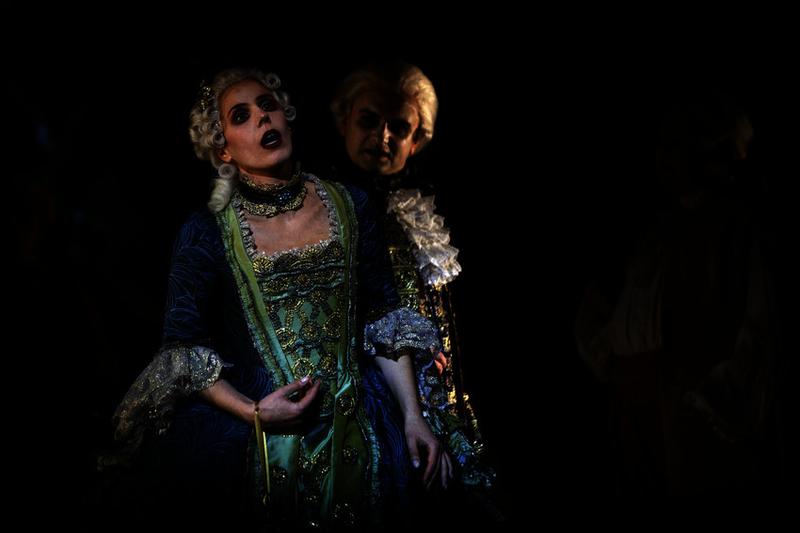 • Listen to the Operavore stream
On this edition of World of Opera, host Lisa Simeone presents Manon from the Malmö Opera in Sweden, starring soprano Georgia Jarman as Manon and tenor Joachim Bäckström as Des Grieux, in a production led by conductor Leif Segerstam.
The opera opens with the title character, an innocent 15-year-old, being shipped off to a convent for her amorous inclinations. At first that seems a bit harsh, but by the time the opera is over it has become clear that Manon's parents had the right idea. To introduce the title character, Massenet gives us music representing Manon's beauty and innocence. As the drama progresses, the music still reflects her beauty, but not so much her innocence.
During her journey to the convent Manon falls for a well-meaning young man of modest means, who adores her. Before long it's clear that Manon has a taste for opulence as well as romance. The opera reveals she's not above cavorting with rich men she doesn't love in exchange for a luxurious lifestyle. While the plot doesn't seem very hard-hitting, Massenet's opera doesn't pull any punches. The opera has the complex, emotionally powerful music it needs to drive home some pointedly unsavory realities.
Cast:
Conductor: Leif Segerstam, conductor
Manon: Georgia Jarman 
Des Grieux: Joachim Bäckstroöm 
Lecaut: Alec Avedissian
Count Des Grieux: Daniel Hällstöm
Guillot: Jonas Durán
Bretigny: Kosma Ranuer
Pousette: Sofie Asplund
Javotte: Kamila Genhamza
Rosette: Kristina Wahlin
Malmö Opera Orchestra and Chorus