Peter Eötvös's 'Kosmic' Take on Bartók and Zappa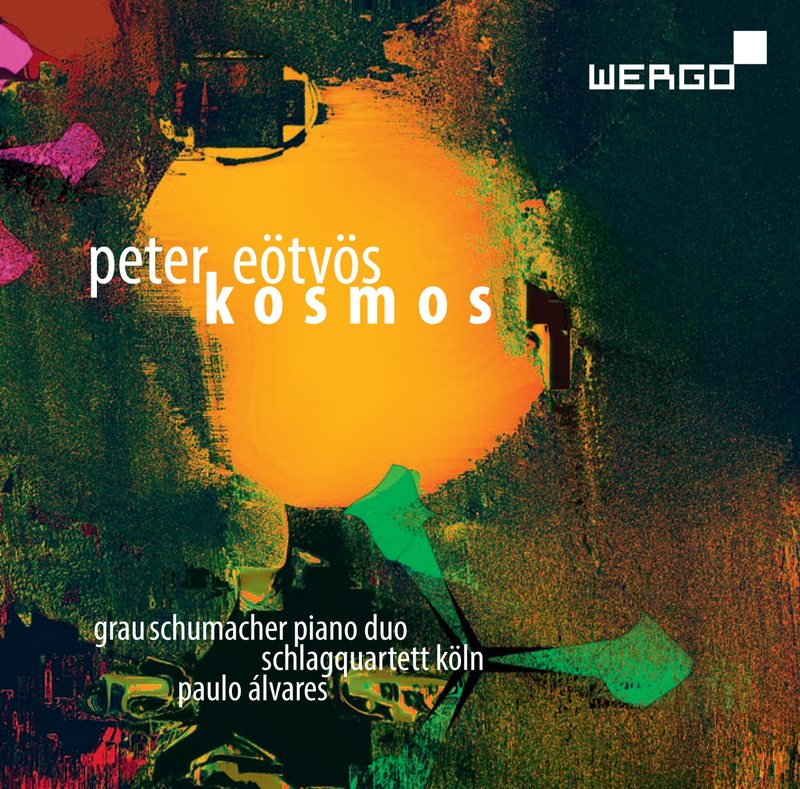 Composer Peter Eötvös refers to the music of Béla Bartók as his "musical mother tongue." Sure, it's a sentiment shared by many successive generations of composers who followed in Bartók's wake, but for a long Soviet-repressed Hungary, his music (and later that of György Ligeti) was a Lingua franca for blooming Eastern European classical musicians – a spectacularly innovative omnipresence in a world of jammed radio waves and highly censored art.
Two of the three tracks on Wergo's new album of Eötvös's music for piano and percussion are direct homages to Bartók, though the music is so highly original – so idiomatic to Eötvös's own highly distinct voice – that the album reads less as a tribute than as a cross-section of smaller chamber works by a composer who begs to be heard on his own terms.
Sonata per Se bursts through the gates as a manic Disklavier-like piano and percussion performance colored with wonderfully dated straight-out-of-IRCAM synthesizer blips. It's a reworking of Eötvös's 2006 CAP-KO – Concerto for Acoustic Piano, Keyboard and Orchestra – written to commemorate the 125th anniversary of Bartók's birth. In title and instrumentation, Sonata per Se is a direct reference to Bartók's Sonata for Two Pianos and Percussion. Pianists Andreas Grau and Götz Schumacher volley hard-fisted tone clusters and sped up, computer-like passages of chromatic odds and ends over the alternately playful and ominous backdrop of Cologne's Schlagquartett Köln percussion quartet.
The homage is worn even more clearly on his sleeve for the 1961 composition Kosmos. The title is taken straight from Bartók's Mikrokosmos for piano and even cops a few notes here and there, albeit in nearly unrecognizable fashion. He writes that "Mikrokosmos taught me that there are other worlds, that there is a micro- as well as a macro-cosmos," but the music is as much about the literal cosmos as it is the widening of perspective: two pianos perform identical parts that drift in and out of sync while programmatically documenting the birth of the universe.
The two Bartók tributes bookend the meditative and cavernous Psalm 151 – written in memory for a very different influence: Frank Zappa. Performed by four percussionists arranged in a circle that move between seven tubular bells, two plate bells and two nipple gongs, the piece is succinctly described in the score's introduction with a five line poem:
This Psalm is a protest, not a song of praise. 
Seven two-part verses, five refrains in a circle.
A protest, not a song of praise. The number 151.
In memoriam Frank Zappa.
Even given the limited instrumental pallet of piano and percussion, "Kosmos" offers a wonderful and varied look at the music of Peter Eötvös - a musician whose direct contact with musical heroes has led to the development of a singular compositional voice all his own.
This audio is no longer available.