Philip Glass's Violin Concerto and Leonard Bernstein's Serenade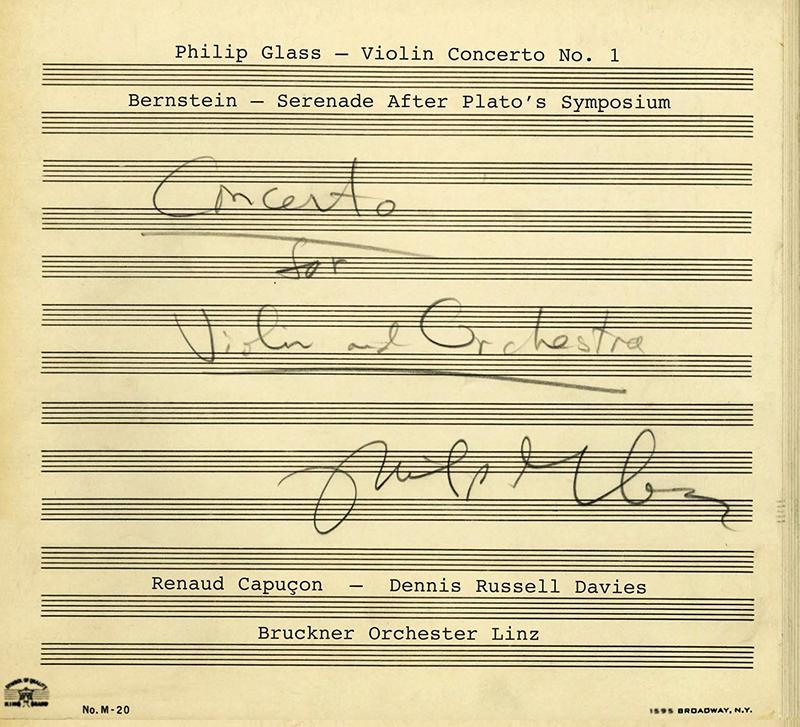 Philip Glass's First Violin Concerto, hardly new to the discography, was also one of his first experiments with large orchestra. But thanks to soloist Renaud Capuçon, longtime Glass champion Dennis Russell Davies, and the Bruckner Orchestra Linz, it has just received its definitive recording, three decades after its premiere.
The form naturally flatters Philip Glass's musical style, accentuating his most appealing neoclassical impulses. The repeating, arpeggiated passage-work and elegantly crafted melodic lines that are synonymous with Glass would almost sound at home in a Vivaldi concerto, and the wistful middle movement even features a descending, four-note bass-line, like a Baroque lament.
Gidon Kremer, arguably the most fascinating violinist alive, has been a heroic proponent of the Glass concerto, but Capuçon's affinity for the "neo" in Glass's neoclassical style makes his an even more essential interpretation of this key Glass piece. The nostalgic warmth of his performance kindles the wistful sentiment hidden in the geometrical architecture of Glass's late-'80s style.
Much of the credit for the remarkable success of this album is due to conductor Dennis Russell Davies, who prepared the stripped-down orchestration of this new version of the concerto, and whose attention to the composer's original tempo markings make room for Capuçon's spacious interpretation. That slow middle movement here takes nearly twelve minutes to unfold, but listeners may never want it to end.
This program pairs the Glass with Leonard Bernstein's Serenade ("After Plato's Symposium") for violin and orchestra, a "neoclassical" work not in the sense of classical music but in the sense of classical Greek philosophy, offering a tone poem that swoons, storms and frolics its way through Plato's dialogues on the nature of love.
And here, too, Davies and Capuçon score a win. This 1954 score offers Bernstein at his best, a meaty work to which Davies's Austrian band manages to bring an earthy, jazzy, all-American vitality. Capuçon offers real wit and poignancy in his traversal of this American master's tone poem, as hot-blooded, worldly and Dionysian as Glass's concerto is airy, Apollonian, and pure.
Philip Glass and Leonard Bernstein: Violin Concertos
Orange Mountain Music | Released Jan. 27
This audio is no longer available.