Pianist Seong-Jin Cho Is Platinum in Korea, Fulfills Carnegie Dream
Tuesday, February 28, 2017 - 06:00 PM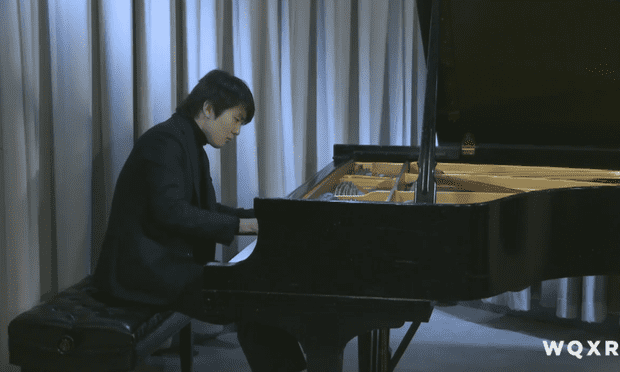 (Kim Nowacki/WQXR)
Seong-Jin Cho's skillful playing has rightly earned him multi-platinum status back in Korea, and now he's sharing his gift with America. Still riding high from his Carnegie Hall debut, the celebrated pianist joined us in the WQXR studio for a Facebook Live performance. The 17th winner of the Chopin Piano Competition performed the Polish composer's Ballade No. 1 and followed up with a beloved Debussy, "Claire de Lune." Check out Cho's performance below, followed by selections from a short Q&A with the pianist.
What brought you to Chopin? What was the piece that got you invested in his music?
Since I was a child I really liked Chopin's music; he's one of my favorite composers. I played the Waltz, Op. 18, when I was ten years old. I found the piece to be very charming, and at the same time Romantic. So I think that piece brought me to Chopin's world, and that's when I started to love his music.
Are there any of his works that aren't performed enough or are underappreciated?
Polonaise Op. 44 in F-sharp minor is quite often played in Chopin competitions, but not so much on the concert stage. It's a great piece, and I think I'm going to play it in the near future.
Are there any memorable experiences from the performance stage?
Last night I played Carnegie Hall, my dream stage ever since I was a child. The acoustics were fantastic. I was a little bit nervous, but not too much. I rather enjoyed the performance; I loved it.
What are you listening to right now?
I usually listen to classical music, not so much rock or pop music. I've enjoyed listening to symphonies for a while…Beethoven, Bruckner and Shostakovich.
More in:
James Bennett II is a staff writer for WQXR.
The WQXR e-newsletter. Show highlights, links to music news, on-demand concerts, events from The Greene Space and more.