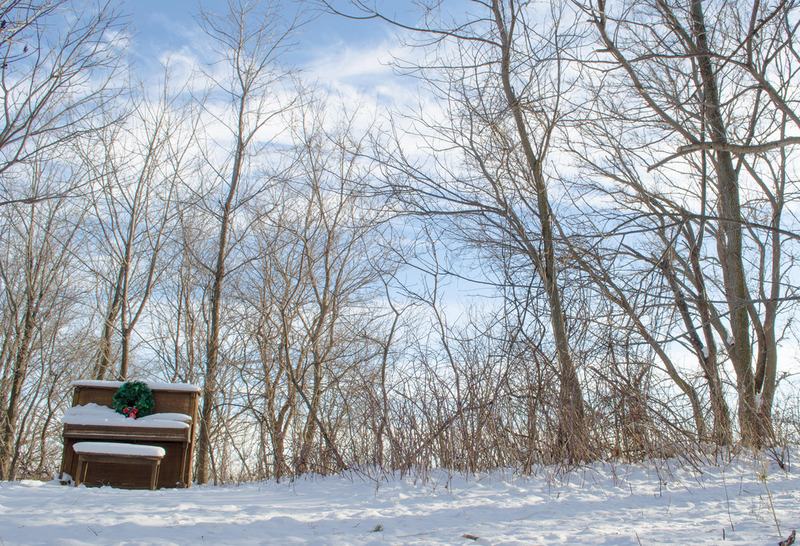 This week's Reflections from the Keyboard celebrates piano music depicting the holiday season and the winter months.
Christmastime looms and winter's freeze is upon us! Nature can be devastating in all seasons, but in the winter, the unleashed power of the winds can be terrific. On the inside, fires are stoked and trees trimmed. Evoking the snowy landscape and Christmas cheer are pieces like Fanny Mendelssohn's December, and Chopin's Winter Wind Etude. It's a stirring composition, one that must be played coldly.
A beautiful transcription of the Dance of the Sugarplum Fairies from Tchaikovsky's Nutcracker is nestled between selections from Franz Liszt's The Christmas Tree Suite. Stepping outside as the temperature drops and the flurries fall, Debussy's Footsteps in the Snow creates the feeling of total desolation during the winter months. Other works on the program include depictions of a long, cold Russian winter with Stravinsky's The Shrovetide Fair and Rachmaninoff's Troika.
Playlist
Concert Suite from The Nutcracker - Dance of the Sugar Plum Fairies (arr. Pletnev)
Peter Ilyich Tchaikovsky
Mikhail Pletnev
Philips
Etude in A minor, op.25 no.11
Frederic Chopin
Josef & Rosina Levinne
Philips
Das Jahr, cycle for piano (The Year): Dezember
Fanny Mendelssohn-Hensel
Sontraud Speidel
Sound Star-ton Productions
The Seasons, Op. 37-bis: XII. December Christmastide
Peter Ilyich Tchaikovsky
Vassily Primakov
Bridge
Weihnachsbaum, S.186 No.9 Cloches du soir
Franz Liszt
France Clidat
DECCA
Children's Corner - IV. The Snow is Dancing
Claude Debussy
Mieczyslaw Horszowski
BBC Radio 3 Medici Arts
Preludes, Book 1, Des Pas Sur La Neige
Claude Debussy
Friedrich Gulda
Philips
Petrouchka; 3rd Movement: The Shrovetide Fair
Igor Stravinsky
Alexis Weissenberg
Philips
Troika
Peter Ilyich Tchaikovsky
Sergei Rachmaninov
BMG
Preludes, Book 1, Ce qu'a vu le vent d'Ouest
Claude Debussy
Alfred Cortot
Philips
Chasse-neige; Etude d'exécution transcendentale No. 12
Franz Liszt
Gyorgy Cziffra
Philips
Weihnachsbaum, S.186 Noel provencal
Franz Liszt
France Clidat
DECCA