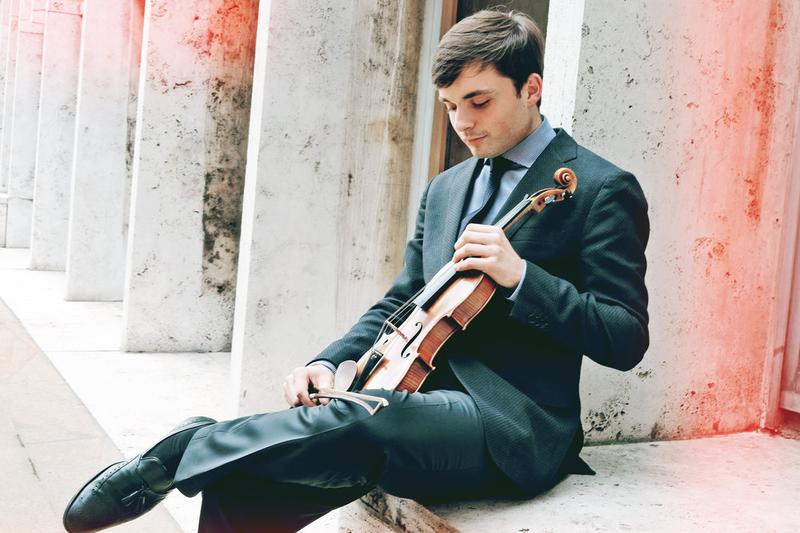 This week on the Young Artists Showcase, the 2015 winner of the Pro Musicis International Award, violinist Francisco Fullana, joins us in the studio for an hour of music and conversation in advance of his Weill Hall debut in November. Fullana and his pianist partner David Fung present a program including works by Bach, Mozart, Strauss, and Falla.
Father Eugène Merlet, a Capuchin-Franciscan priest and musician, founded Pro Musicis in 1965 in order to support the career development of young solo artists. The first concerts were presented in Paris and London, and the organization opened an office in New York City in 1969. This office was briefly closed, but recently reopened thanks to the efforts of many Pro Musicis alumni, as well as Executive Director John Haag. The organization now continues its mission to support young artists and to present concerts in communities that normally do not have access to live performance.
Francisco Fullana was born in Palma de Mallora, Spain. He moved to New York to study at Juilliard, where he earned both a Bachelors and a Masters degree. Fullana also won the 2014 Johannes Brahms and the 2015 Munetsugu Angel International violin competitions, and he is currently pursuing an Artist Diploma at the University of Southern California. He is acclaimed for his performances in the United States and Europe.
Pianist David Fung won the Queen Elizabeth International Music Competition and the Arthur Rubinstein Piano Competition, and he has performed with major orchestras around the world. Born in Australia, he moved to the United States in order to study at the Colburn Conservatory in Los Angeles.
Carnegie Hall will present Francisco Fullana in his solo debut at Weill Hall on Tuesday, November 1st, 2016. He and David Fung will play pieces from this program, as well as works by Isang Yun and J.P. Joffre.
Program:
Bach: Sonata No. 3 for Violin and Piano in E M Major, Adagio ma non tanto and Allegro
--Francisco Fullana, violin; David Fung, piano
Mozart: Sonata for Violin and Piano in C Major, K. 303
--Francisco Fullana, violin; David Fung, piano
Strauss: Sonata for Violin and Piano in E-flat Major, Op. 18, Allegro Finale  
 --Francisco Fullana, violin; David Fung, piano
Falla: Suite Populaire Espagnole, Nana and El paño moruno
--Francisco Fullana, violin; David Fung, piano