Protesters Disrupt London Symphony Concert in Trafalgar Square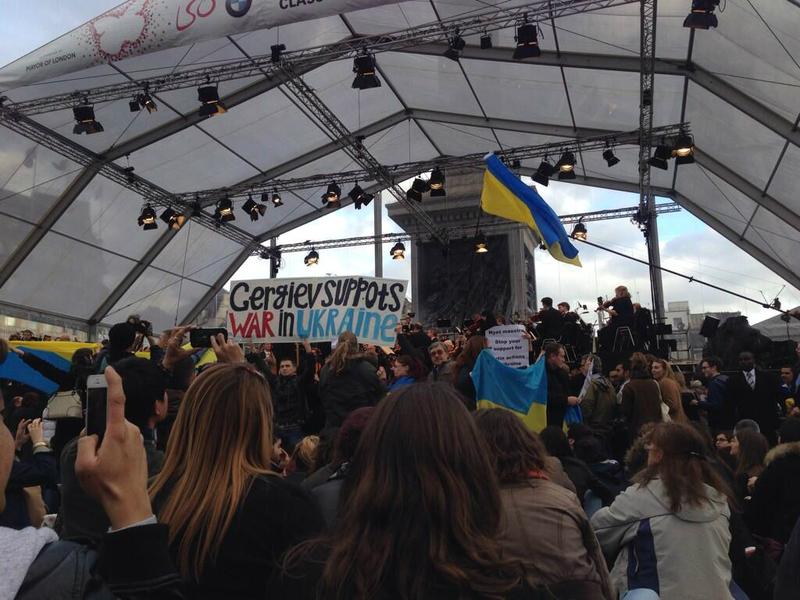 Chanting "shame on you" and waving Ukrainian flags, protesters interrupted a concert on Sunday by the London Symphony Orchestra to denounce its chief conductor, Valery Gergiev, for his support of Russian President Vladimir Putin.
The demonstrators, comprising some 20 to 30 pro-Ukrainian and gay rights activists, booed Gergiev as he walked onto the podium, according to local media reports. A large banner reading "Gergiev Supports War in Ukraine" was unfurled in front of the stage. After a few minutes, the protesters were removed by security staff.
Gergiev, who has been the LSO's principal conductor since 2007, is a close friend and supporter of Putin. In March he was one of 500 Russian artists and celebrities who signed an open letter declaring support for the Russian president's stance on Ukraine and Crimea. The conductor has previously been the target of protests in London, San Francisco and New York, including concerts at Carnegie Hall and the Metropolitan Opera. 
Sunday's protest was organized by Peter Tatche, a human rights activist who previously disrupted the LSO's season-opening concert at the Barbican in November. The events at Trafalgar Square were documented on social media and on videos posted to YouTube (see below). The LSO declined to comment on the incident.
Protesters at #lsoopenair being physically moved. Apparently conductor supports war in Ukraine, conducts for Putin(?) pic.twitter.com/SaAsxSJ6x1

— Mevan. Me and van. (@MeAndVan) May 11, 2014
Audience entranced by Romeo & Juliet! Never heard Trafalgar Square so quiet with this many people in it! #lsoopenair pic.twitter.com/GogWYOpghu

— London Symphony Orch (@londonsymphony) May 11, 2014