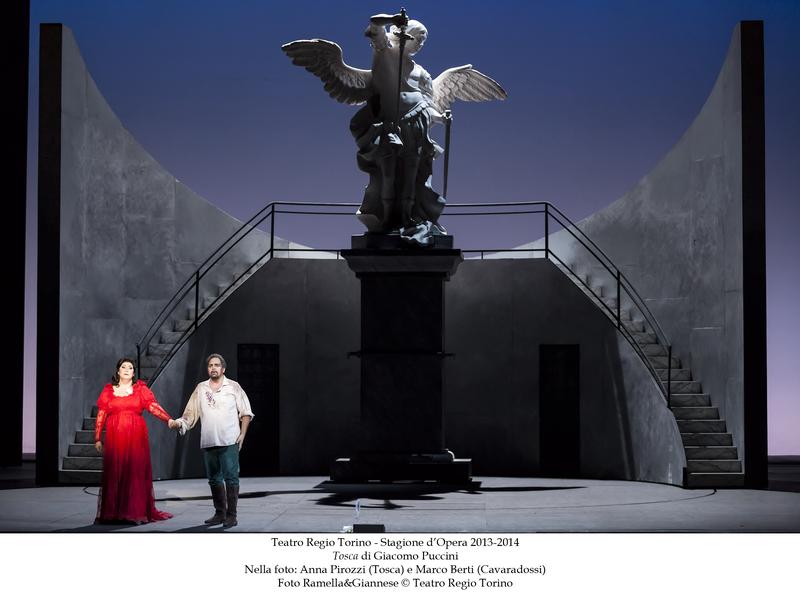 • Listen to the Operavore stream
World of Opera host Lisa Simeone presents Tosca from the Royal Theater in Turin, Italy. The stars are soprano Anna Pirozzi in the title role, tenor Marco Berti as Cavaradossi and baritone Marco Vratogna as Scarpia.
Puccini based his opera on the 1887 play "La Tosca", by the French writer Victorien Sardou. The composer secured operatic rights to the drama immediately after he first saw it and began composing his own Tosca in 1896. Puccini called it, "an opera that I need."
He always took a "no holds barred" approach to his operas and Tosca is no exception. Puccini turned the play into a sensational roller-coaster of a drama that's one of the most popular operas of all time. As with any great work, it also had some eminent detractors. What one great opera composer sees as milk and honey can be poison for another. In example, Benjamin Britten said he was "sickened by the cheapness and emptiness" of Puccini's Tosca. 
Even for Puccini lovers, it's easy to question Tosca's redeeming values. Still, there are plenty. The music is as beautiful as anything Puccini ever composed and while the drama is heavy-handed it's also masterful -- poking at the darker side of our desires and even satisfying them. Puccini is expert at highbrow entertainment with soul and the added pleasure of a guilty grin.
Cast:
Conductor: Palumbo
Tosca: Anna Pirozzi (soprano)
Cavaradossi: Marco Berti (tenor)
Scarpia: Marco Vratogna (baritone)
Sacristan: Marco Camastra (baritone)
Angelotti: Gabriele Sagona (bass)
Spoletta: Luca Casalin (tenor)
Sciarrone: Ryan Milstead (bass)
Sheperd Boy: Anita Maiocco
Teatro Regio Orchestra and Chorus Renato