Rattle Conducts Bach's St. John Passion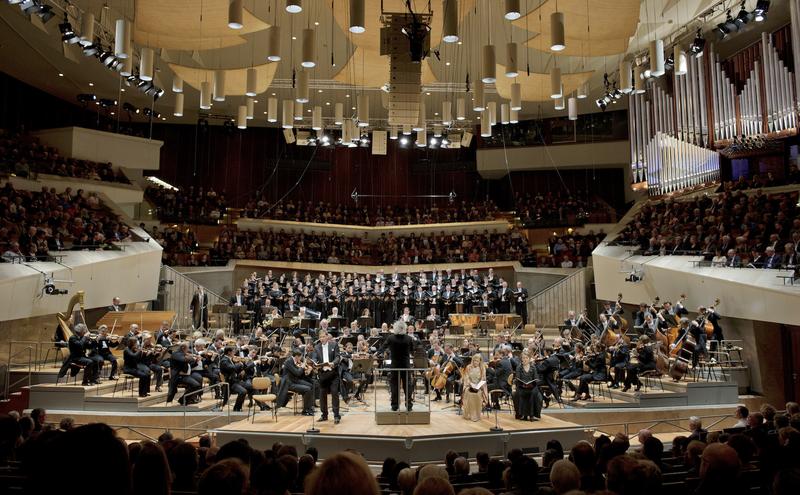 In Bach's day, the passions – cantatas telling the story of Christ's crucifixion – were intended to be performed in Lutheran churches in Leipzig on Good Friday. Even today, on the Friday before Easter, choirs in churches around the world sing Bach's Passions. But these works are rarely staged.
Enter director Peter Sellars. Four years ago in the Philharmonie concert hall in Berlin, the acclaimed director offered a radically new, 21st century production of the St. Matthew Passion. We presented it on the Berlin Philharmonic in Concert earlier this month.
Then, Simon Rattle said to Sellars, "Now we have to do Bach's St. John Passion," and Sellars responded, "No we don't." He thought the piece to be a "crude sketch." But Simon said, laughing, "You will be so embarrassed you said that one day."
Rattle and Sellars are an unlikely team: one with white British curls and the other wearing a spiky American "do." And the two made the production happen.
They keep almost the same group of vocal soloists – Mark Padmore as the Evangelist, Roderick Williams singing Jesus's part, and Christian Gerhaher as both St. Peter and Pontius Pilate – but the two Passions are "utterly different," Rattle says. The St. John is "full of horror, and terror, and it's one of the most partisan, most violent pieces ever written." It moves quickly from event to event, with the chorales the only places of order and safety.
Sellars spins it differently. He wants "the chorales to be action, not just nice thoughts." He wants the chorales to challenge the congregation and now the audience, asking "How do we respond now that we've seen people in need? What do we do next? And the music never resolves that…"
Thanks to Emmanuel Church in Boston for the libretto in the original German and English.
CAST
Johann Sebastian Bach: St John Passion
Camilla Tilling Soprano, Magdalena Kožená Mezzo-Soprano, Topi Lehtipuu Tenor (Arias), Mark Padmore Tenor (Evangelist), Roderick Williams Baritone (Jesus), Christian Gerhaher Baritone (Pilatus, Petrus), Rundfunkchor Berlin, Simon Halsey Chorus Master, Peter Sellars Staging
Watch video archives of these broadcasts with a 48-hour free pass to the Digital Concert Hall using the promo code WQXR.
The Berlin Philharmonic's recordings are available at Arkivmusic.com and on iTunes.