Remembering Dr. King Through the Power of Music
Monday, January 16, 2017 - 12:00 AM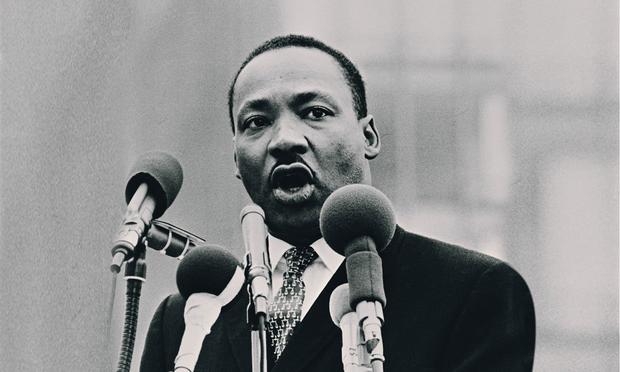 (Wikimedia Commons)
Dr. Martin Luther King, Jr. led an extraordinary life. As we step back to appreciate the legacy he left during his brief time on earth, take some time to reflect on his leadership and message with these compositions directly inspired by King himself.
"O King" (Luciano Berio)
Today, many of us may not realize just how radical his non-violent methods actually were. Also radical was Luciano Berio's music, which does not fit sweetly into the generations of classical tradition that came before it; "O King" is a product of the composer's interest in serialism and other emerging 20th century compositional techniques. Let that harsh sound act as a reminder of how revolutionary the activist was. Originally scored for one voice, flute, clarinet, violin, cello, and piano, "O King" makes its home in a sparse soundscape, where the voice intones more than sings. This work is short — only about five minutes — but a challenge to listen to. Listening while meditating on King, you begin to hear how the music is a representation of his work, violent end and legacy.
For most of the piece, the voice presents listeners with a deconstruction of the phrase "O Martin Luther King," and waits until the final moments before rising above the ensemble to say his full name. Music publisher Universal Edition describes the effect as "punctured," a word that also describes the actions of the bullet that cut down the peacemaker in his prime.
Passion of Martin Luther King (Nicolas Flagello)
Nicolas Flagello was deeply moved by King's message and was almost certainly devastated when he learned of the activist's death in 1968. The following year, he debuted his liturgically inspired Passion of Martin Luther King.
In the liner notes for a 2006 release of the Passion, author Walter Simmons notes that Flagello was moved to compose this piece upon hearing a comment by Pope Paul VI regarding King's death: "I liken the life of this man to the life of our Lord."
Flagello revisited an earlier composition that included his settings of several liturgical texts. He combined that shelved work with new music. The resulting Passion alternates that sacred Latin church music with new vocal settings of King's speeches, including the familiar "I Have a Dream."
New Morning for the World (Joseph Schwanter)
The most recent of these pieces, Joseph Schwantner's New Morning for the World: Daybreak of Freedom was commissioned by telecommunications company AT&T and made its premiere on January 15, 1983 — what would have been King's 54th birthday.
Like Flagello's Passion, New Morning employs the text of King's speeches to provide emotional context for the work. In this case, the text is not sung, but instead spoken. At its premiere, Pittsburgh Pirates star Willie Stargell's powerful voice assumed the cantorial duties, invoking King's spirit with his careful recitation.
More in:
James Bennett II is a staff writer for WQXR.
The WQXR e-newsletter. Show highlights, links to music news, on-demand concerts, events from The Greene Space and more.