Remembering Roberta Peters, in Her Own Words
Friday, January 20, 2017 - 04:40 PM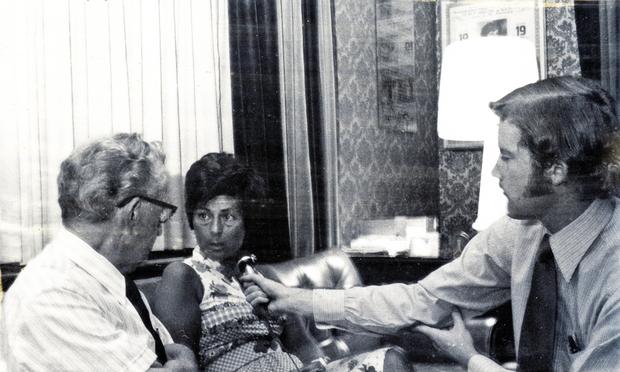 (Photo courtesy of Douglas P. Cooper/WNYC Archive Collections)
After the death of coloratura soprano Roberta Peters at 86 on Thursday, we reflect on her legacy with a number of illuminating interviews from the archives.
Peters made her name in opera and later moved to musical theater and operetta. Her stardom was also realized just as television was beginning to take off as a fixture in many homes — the result being dozens of appearances on a number of nightly and variety shows. Even in her later years, she was still performing concert recitals. This wide reaching appeal was well-documented over the course of her professional life. As we remember such a vocal talent, let's revisit some of her best interviews.
On Living Opera with Alan Wagner (date unknown)
About a decade after her Metropolitan Opera debut, Peters joined host Alan Wagner on Living Opera, a weekly radio program that featured some of the most notable names in the art form. In this interview, Peters discusses several new recordings and the effort she puts into her uniquely difficult coloratura roles. Listen as she talks about two of her favorite roles — Rosina in The Barber of Seville and the title character in Lucia di Lammermoor. At the time, she was preparing for the role of Zerbinetta in Ariadne, and so she takes times to discuss the intricacies and delights of Strauss' vocal music. When Wagner inquires about her recitals, Peters reveals that she never "plays down to the audience," and always tries to give them a performance just as they would hear on a recital album. (*Thanks to the family of Alan Wagner for making this tape available to us.)
With Douglas Cooper and George O'Brien (1973)
Peters explains what makes outdoor performances a different experience from those inside — the impact the elements or the night air can have on the human voice and the possibility of swallowing a wayward bug. Knowing that makes one appreciate live outdoor performances even more. A sizable portion of the interview is dedicated to her early training and the circumstances that led to her stage debut. You will also hear her speak about the shifting expectations of opera singers of the time, as well as how an audience should prepare to listen to a performance.
With Steve Sullivan on WQXR (1985)
As she neared her 35th anniversary with the Met, WQXR host Steve Sullivan conducted a short interview with Peters. The next night, she was scheduled to perform at the 92nd Street Y. During their conversation, Peters shared sentimental reflections on her 65 appearances with the Ed Sullivan show and her international appearances. We hear about Peters' experiences touring the USSR, as well as her distinction of being the first American-born person to receive the Bolshoi Award.
A Musical Performance with the Essex String Quartet, Around New York with Steve Sullivan (1994)
Ahead of an engagement at Hunter College's Sylvia and Danny Kaye Playhouse, Sullivan invited Peters, the Essex String Quartet and Playhouse Director Joseph Loschiavo on his show. Peters introduced one of the pieces she and the quartet had prepared for the concert, Respighi's Il Tramonto, and recorded a live performance in studio.
With Leonard Lopate on New York and Company (1998)
This interview, recorded 13 years after her career with the Met had ended, host Leonard Lopate has Peters looking back over her professional life. She discusses how the approach to roles changes as one grows older and the beauty of showcasing talent in recitals. One of the more interesting insights she shares are her observations on the difference in opera between American and European singers and audiences. In Peters' opinion, the fact that so few Americans learn a second language means that its opera singers must learn a variety of languages. Contrast that with, for example, an Italian opera singer who mainly perform roles sung in Italian. She also tells us her favorite concert hall (Carnegie Hall) and audience (those in Salzburg). Peters also shares the stories of her early studies, unexpected debut and crossover into musical theater. If you're looking for a general introduction to the life and work of Peters in her own words, this interview is awaiting your listening ears.
More in:
James Bennett II is a staff writer for WQXR.
The WQXR e-newsletter. Show highlights, links to music news, on-demand concerts, events from The Greene Space and more.