World of Opera
Rimsky-Korsakov's The Legend of the Invisible City of Kitezh and the Maiden Fevroniya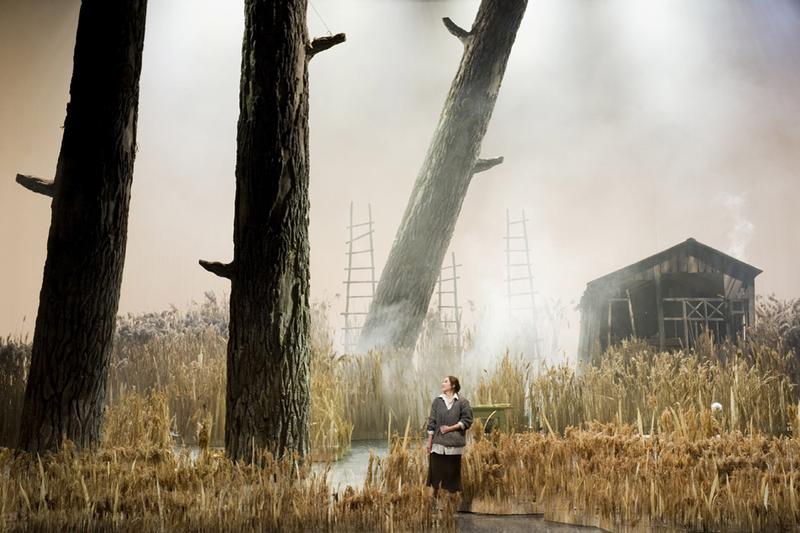 This week on World of Opera, host Lisa Simeone brings us Rimsky-Korsakov's The Legend of the Invisible City of Kitezh in a production from the Grand Liceu Theatre in Barcelona. It stars soprano Svetlana Ignatovitx as Fevroniya, and tenor Maksim Aksenov as Prince Vsevolod, and is led by conductor Josep Pons.
Syncretism means "the tendency to combine or reconcile differing beliefs, as in philosophy or religion" and it aptly sums up Rimsky-Korsakov's complex and kaleidoscopic opera.
The opera's title characters — a city and a maiden — come from two contrasting legends based on ancient Russian folklore. Traditionally, Fevroniya is a young peasant woman who worships nature, heals a dying prince and saves the wicked city of Murom from chaos. The legendary Kitezh, on the other hand, is a city so devoutly Christian that when it comes under siege its citizens defend themselves only by praying and the city disappears in the face of its attackers.
Blending the two stories could have made for a murky opera, but Rimsky-Korsakov seemed less concerned with his drama's complex mix of beliefs than with its potential for powerful imagery. In his hands, a young woman transformed by the beauty and purity of nature becomes a swirl of gentle melody and shifting orchestral textures and a city that disappears into a golden mist survives in the fervent voices of its people and the shimmering sound of its bells.
For this reason, The Legend of the Invisible City premiered in St. Petersburg in 1907, and quickly became the most popular opera in Russia.
Cast:
Conductor: Josep Pons,
Fevroniya: Svetlana Ignatovitx (soprano)
Prince Vsevolod: Maksim Aksenov (tenor)
Grishka: Dmitry Golovnin (tenor)
Prince Yuriy: Eric Halfvarson (bass)
Poyarok: Dmitris Tiliakos (baritone)
Bear Handler: Albert Casals (tenor)
Bedyay: Alexander Tsymbalyuk (bass)
Burunday: Vladimir Ognovenko (bass)
Sirin: Larisa Yudina (soprano)
Alkonost: Margarita Nekrasova (mezzo-soprano)
Grand Lieceu Theatre Orchestra and Chorus