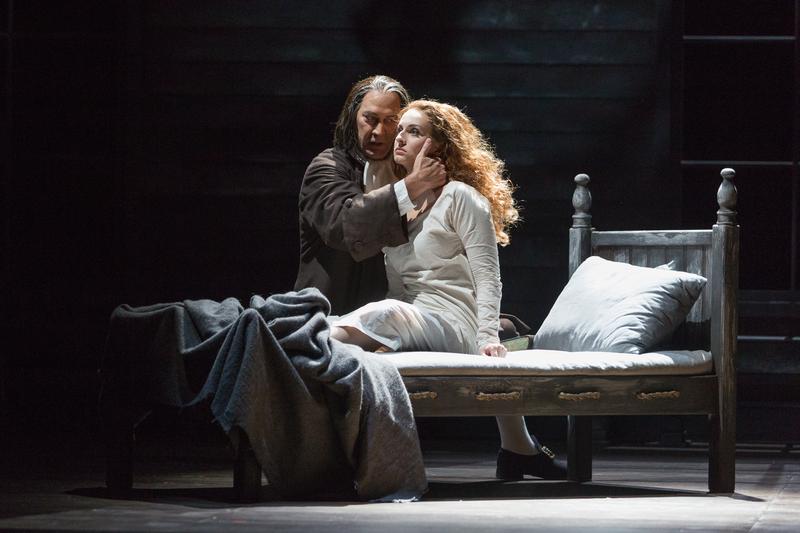 Listen above to Robert Ward's The Crucible, based on the play by Arthur Miller, from the 2016 Glimmerglass Festival. Brian Mulligan stars as John Proctor, with Jamie Barton as his wife, Elizabeth Proctor. David Pittsinger sings the role of Reverend John Hale, and Jay Hunter Morris is Judge Danforth. Members of the Glimmerglass Young Artists program fill out the rest of the roles. Nicole Paiement conducts the Glimmerglass Festival Orchestra.
Ward's lush opera score was written in 1961, and went on to win the Pulitzer Prize in 1962. Miller worked with Bernard Stambler on the libretto. There are sections of the opera that are taken directly from the play, but the opera also contains a scene that was cut from the play.
Host Annie Bergen talks to director Francesca Zambello during the intermission, as well as members of the cast.
Intermission preview:
Cast:
John Proctor: Brian Mulligan
Elizabeth Proctor: Jamie Barton
Judge Danforth: Jay Hunter Morris
Reverend John Hale: David Pittsinger
Abigail Williams: Ariana Wehr
Tituba: Zoie Reams
Mary Warren: Maren Weinberger
Reverend Samuel Paris: Frederick Ballentine
Betty Parris: Mary Beth Nelson
Thomas Putnam: Michael Miller
Ann Putnam: Gabriella Sam
Giles Corey: Chaz'men Williams-Ali
Ezekiel Cheever: Ian Koziara
Francis Nurse: Zachary Owen
Rebecca Nurse: Helena Brown
Ruth Putnam: Emma Grimsley
Susanna Walcott: Molly Jane Hill
Sarah Good: Meroe Khalia Adeeb
The Glimmerglass Festival Orchestra
Nicole Paiement, conductor