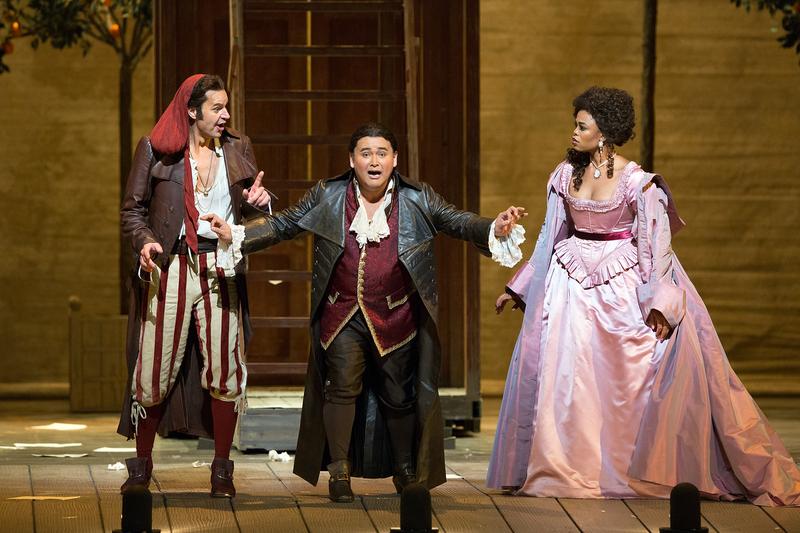 Rossini's Il Barbiere di Siviglia is set to delight you during the Met Opera matinee broadcast, on Saturday at 1 pm.  Whether it will be your first time with Rossini's Figaro, or your tenth, listeners can get something out of this farcical comedy on every turn.
But for a moment in history, it didn't seem like Barbiere would be an opera for the ages — its 1816 Rome premiere was, by most measures, a complete disaster. Barbiere was based on a play that had been already adapted for opera some decades before by the composer Paisiello. Rossini actually went to great lengths to avoid interfering with Paisiello's legacy, and wrote a letter as a precaution against potential hard feelings. But on opening night, several Paisiello fans packed the theater, whistling and jeering. The ensuing commotion from the audience spilled onto the the stage — prop malfunctions, a stray cat, and even bodily injury plagued the evening's performers. Thankfully, the second performance was better received. It was a great success, and hasn't looked back since.
Barbiere got a boost (as if it needed it) in the twentieth century. It made a mark on pop culture thanks to musical references from the cartoon series Looney Tunes and Tom and Jerry, as well as the sitcom Seinfeld and a slew of commercials. The result? Hundreds of thousands of people contentedly humming the overture or an aria of one of the opera world's biggest hits.
Il Barbiere di Siviglia is the subject of this week's He Sang, She Sang podcast and another of host Jeff Spurgeon's "Three Minute Opera" shorts.
Cast
Conductor: Maurizio Benini
Rosina: Pretty Yende
Count Almaviva: Dmitry Korchak
Figaro: Peter Mattei
Dr. Bartolo: Maurizio Muraro
Don Basilio: Mikhail Petrenko