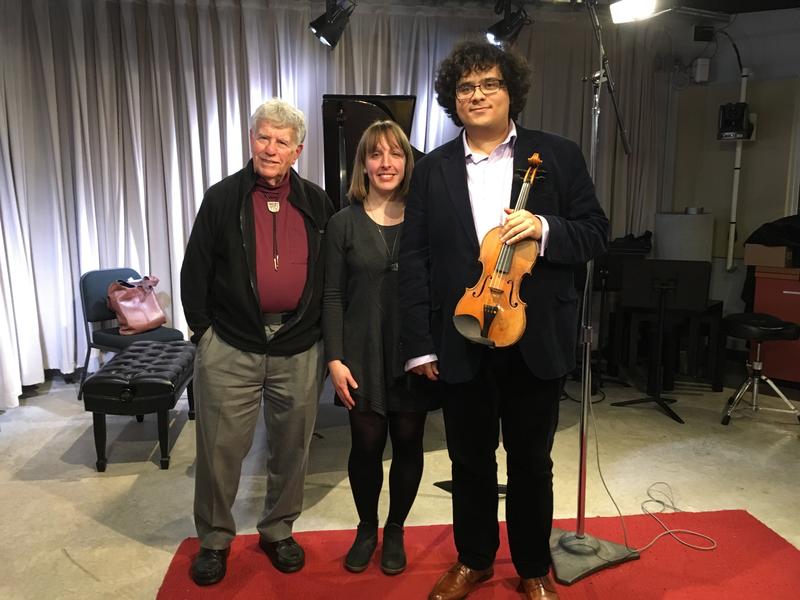 Tune in Wednesday at 9 pm for this week's episode of Young Artists Showcase. Two weeks ago, we heard from the iPalpiti Festival, and on this program, we feature one of the Festival's members. Violinist Samuel Nebyu is joined by pianist Bethany Brooks and his teacher, Prof. Eduard Schmieder. Together, Nebyu and Brooks perform a program of spiritual arrangements, music by the English composer Samuel Coleridge Taylor, and Franz Waxman's Carmen Fantasie, an arrangement of Bizet's music that Nebyu performed as a soloist during both the 2016 iPalpiti festival and as the winner of the Salzburg Mozarteum Festival competition this summer.

Samuel Nebyu was born in Hungary but grew up in Asia and Belgium. After seeing a poster with a picture of a violin in a Belgian museum at age six, he was inspired to learn the instrument. At 15, he was admitted to the Young Talents Program at the Brussels Royal Conservatory of Music. There, he studied with Igor Oistrakh and served as violinist-in-residence at the Queen Elisabeth Music Chapel. He has performed at many renowned festivals in addition to the Mozarteum, including the Eilat Music Festival in Israel, the Ravello Festival in Italy, and the Summit Music Festival in New York. He currently studies at Temple University with Eduard Schmieder.

Bethany Brooks is a freelance pianist in the Philadelphia area. She has studied performance, piano pedagogy, and collaborative piano at Houghton College, the Royal Academy of Music in London, and Temple University. She has performed in cities across the world, including Philadelphia, New York, Nashville, London, Mexico City, Odessa, and Istanbul. She was a prizewinner in the 2001 Bartok-Kabalevsky-Prokofiev International Piano Competition.
Program:
White: Bandanna Sketches (Lament, Slave Song, Negro Dance)
--Samuel Nebyu, violin; Bethany Brooks, piano

Coleridge-Taylor: Four African Dances
--Samuel Nebyu, violin; Bethany Brooks, piano

Bizet (arr. Waxman): Carmen Fantasy
Samuel Nebyu, violin; Bethany Brooks, piano

Coleridge-Taylor: Deep River
--Samuel Nebyu, violin; Bethany Brooks, piano