'The Scottish Play' With Trio Settecento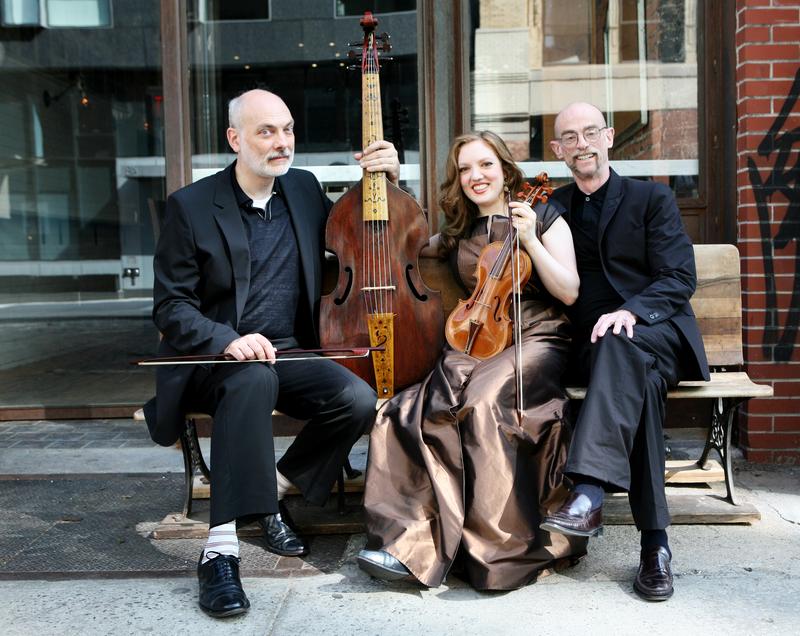 The final Concert From The Frick Collection for this season is called "The Scottish Play," but it has nothing to do with Shakespeare's supposedly cursed drama.
American period instrument ensemble Trio Settecento explores the music of the Scottish Enlightenment, which mixed Scottish fiddle tunes with Italian Baroque and early classical settings. In 18th century Scotland, composers and audience members were very literate in these different styles. Violinist Rachel Barton Pine says that they "might be fiddling in a barn for a dance one night, and sitting in a local music society orchestra playing Corelli concerti grossi and Handel Oratorios the next night."
As part of the 75th anniversary season of Concerts From The Frick Collection, Trio Settecento celebrates some lesser-known Scottish composers from the 1700s, including McGibbon, Bremner and Mackintosh, as well as Italian composers that were inspired by Scottish music. For a special medley of traditional Scottish tunes at the end of the program, the group are joined by Scottish fiddler Tim Macdonald. The string members of Trio Settecento met Macdonald while at The Jink & Diddle School of Scottish Fiddling in rural North Carolina.
Program details:
William McGibbon: Sonata in B-Minor*
Robert Mackintosh and Charles McLean: Sonata on "Pinkie House"*
Stephen Paxton: The Highland Laddie, A Scots Air with Variations
Alexander Munro: Sonata in B-Minor on 'Fy, gar rub her o'er wi' strae'
Francesco Maria Veracini: Sonata in A, Op. 2, No. 9*
Robert Bremner: Variations on "Hit Her on the Bum"*
Francesco Geminiani: Airs - Auld Bob Morrice*, The Country Lass*, Lady Ann Bothwell's Lament, Sleepy Body*
Thomas Alexander Erskine, Sixth Earl of Kelley: Air
Anonymous, circa 1740: Pibroch*
Traditional: Macintosh's Lament
Traditional: A Medley of Scots Tunes* with guest violinist Tim Macdonald
Strathspay: Miss Lyle or The Cat That Kittled In James' Wig
Reels: The Mason's Apron, Soldier's Joy, The Devil Among the Tailors, Timour the Tartar
Encore: The Sow's Tail to Geordie with guest violinist Tim Macdonald
— Trio Setticento: Rachel Barton Pine, violin; John Mark Rozendaal, cello; David Schrader, harpsichord.

* Included in edited radio program above. Full concert audio is below.