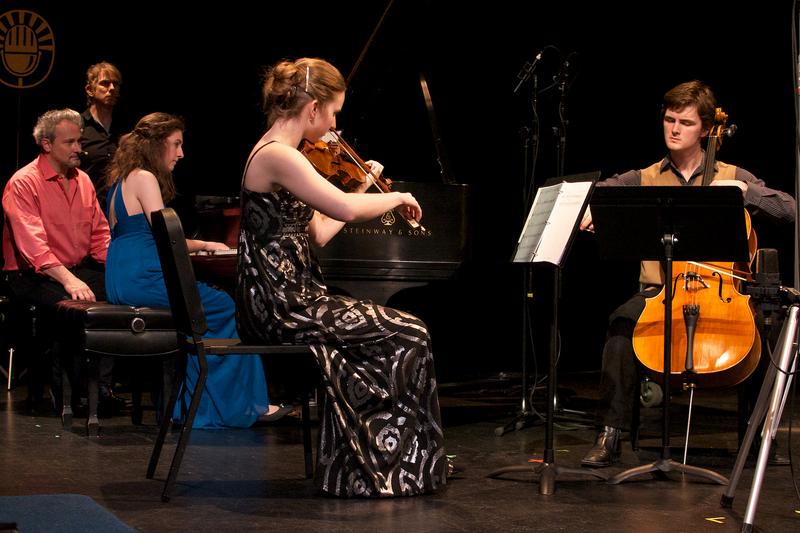 From PONCHO Concert Hall at Cornish College in Seattle, Wash., this week's program features a local teenage violinist delivering an emotional performance of the music of Ernest Bloch and teenagers from Chicago perform a thrilling wild and fun work for sax quartet. We'll also enjoy the broadcast premiere of a new composition written by an 18-year-old from New York City, an intriguing and ethereal piece titled Tropholingua, which means "language of plants."
Program playlist:
Cellist Audrey Chen, 17, from Redmond, Wash., performs Variations on a Theme by Rossini by Niccolò Paganini, with pianist Christopher O'Riley.
Pianist Agata Sorotokin, 16, from San Jose, Calif., performs movements from "Musical Toys" by Sofia Gubaidulina.
"Mechanical Accordion"
"Magic Roundabout"
"A Bear Playing Double Bass and the Black Woman"
"The Woodpecker"
"The Drummer"
Violinist Felicity James, 17, from Seattle, performs the second movement, Nigun (Improvisation) from Baal Shem, Three Pictures of Hassidic Life for Violin and Piano by Ernest Bloch, with pianist Christopher O'Riley.
Composer Jack Gulielmetti, 18, from New York City, has movements of his piano trio Tropholingua performed by 18-year-old cellist Joseph Teeter from Topeka, Kan.; 17-year-old violinist Felicity James from Seattle; and 16-year-old pianist Agata Sorotokin from San Jose. (Gulielmetti's appearance on From the Top is supported by ASCAP Foundation Jack and Amy Norworth Fund.)
I. As if floating
II. Resurrection and the Life
IV. Rising upwards, no sense of downbeat
V. Finishing a phrase, as well as keeping your own voice
XX. Resurrected, building to the moment
Precipice Saxophone Quartet performs the fifth movement, Fanfare/Variations on "Durch Adams Fall" (Through Adam's Fall), from Recitation Book for Saxophone Quartet by David Maslanka.
Soprano saxophonist Justin Udry, 18, from Kenosha, Wis.
Alto saxophonist Elizabeth Rangel, 17, (Jack Kent Cooke Young Artist) from Chicago.
Tenor saxophonist Logan Curry, 18, from Maywood, Ill.
Baritone saxophonist Shane Woods, 17, from Matteson, Ill.