Inside Out is Transforming the Traditional Concert Experience
Thursday, March 02, 2017 - 10:18 AM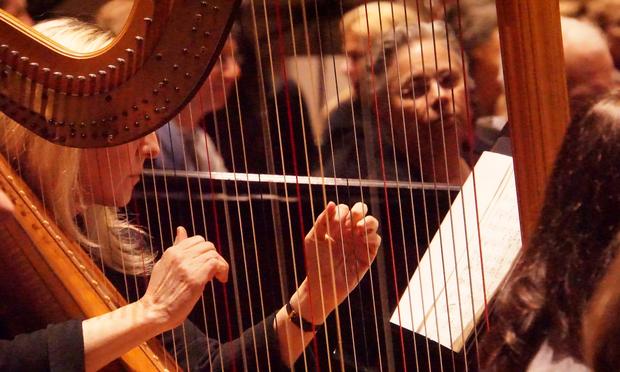 (Alex Wen/Park Avenue Chamber Symphony)
A live classical music performance 200 years ago would have been very different than one held today, and that's putting it lightly. The hall was once uniformly lit, and it wasn't strange for an audience to go wild at a flourishing display of virtuosity, or jeer at a poor or "offensive" performance (see: "Spring, Rite of"). But by the mid-20th century, live classical performances became a somewhat formal affair. You know the drill: get a little spruced up, take a few pre-show photos for your legion of devoted Instagram followers, bury your nose in the program and wait for the house lights to dim. And hope with all your might you remember to only clap at the right times. While there's no doubt that some classical fans appreciate or enjoy the ritual, the formalities — no matter how minute — can make the concert hall impenetrable for some newcomers.
The Park Avenue Chamber Symphony is looking to change that. With its innovative series, InsideOut, the orchestra doesn't just clear that staid atmosphere — it creates a musical environment where such a barrier can't even exist. PACS and its musical director, David Bernard, are trying to demystify the classical concert-going experience by doing away with several of the established behavioral fixtures and instead having the audience interact with the music on a more primal level.
"Everything is about experience now," Bernard explained after a rehearsal for PAC's most recent concert, featuring the music of Haydn (Symphony No. 94) and Stravinsky (Suite from "The Firebird"). It's their second InsideOut; last year saw a test, which proved to be a success. Bernard likened InsideOut to IMAX, expressing his hope that an immersive experience would achieve for live classical music what the high-resolution film format did for theaters. At a time when you can stream quality recordings anytime, anywhere, Bernard feels that integrated seating — the concert-hall version of live musical performance in HD — is the best way to offer listeners a new, visceral gateway to music appreciation.
InsideOut doesn't use traditional programs, which can be unforgiving toward those who forgot their glasses, or young ones who might struggle through the sometimes technical-text. Instead, Bernard drops classical knowledge himself and speaks to the crowd between movements — after some welcome applause. Hearing him briefly explain pizzicato and arco is in keeping with the casual atmosphere, as are his enlightening observations about the compositional techniques in play.
But it's where you sit that separates InsideOut from other live performances. Here, the conductor's back isn't turned to you, nor is the orchestra elevated on a stage on the other side of the room. Instead, the seats are with the players themselves, in the thick of the violins or right next to a harp. And to keep things interesting, the audience regularly rotates to sit with a different section. There's no separation here, just a mass of pumping hearts joined in a singular musical communion.
The InsideOut atmosphere delights not just the audience, but the individual orchestra members themselves. As you can imagine, having listeners right there adds a whole new dimension to the musicians' own experience as providers of the sound. Trumpeter Clyde Daley says that musicians are used to a certain routine before the music begins, and they normally experience that with other members of the orchestra. When the audience is mixed in, though, it's "a bit of a wakeup call" since all eyes are fixed on you from the start. But after some mental adjustments, it's "fun and refreshing" to see the audience's reactions to the music up close. Violinist Lesley Rosenthal likens classical music to a conversation, and she says that it is a privilege to have one with the audience. Lauren Noble, also a violinist, shares a similar sentiment. She calls the music a special gift to give back, and revealed that the audience's excitement actually pushes her to play a little bit better. When the concert ended, bass trombonist Alan Futerfas noted that someone nearby told him that "he could feel, not just hear, the power of the sound." It means a lot for a musician to hear that from an enthralled audience member; having a setup that allows for that kind of interaction between dedicated musicians and engaged listeners feels good all around.
"It's important to have the audience here," said Bernard. "They can see what the music making process looks like." And what a process it is. Witnessing the real-time synthesis of an orchestra's components makes your mind run wild with the curiosity of a 6-year old in a science center. When we sit apart from the orchestra we're able to form a vivid memory of the back of a composer's head, and take in the music as a unified whole. But sitting deep in the orchestra gives you a look at all of the individual parts that make it all possible. At first it feels kind of weird — if you've ever played an instrument in grade school, it feels like the awkward times you forgot to bring your instrument to class. But that feeling quickly evaporates — instead of being berated, you are warmly welcomed.
You start to explore your surroundings and become more sensitive to what's going on around you. The vibrations that move through the air, and the resonance you feel with them, are suddenly more intense. Even if you know the piece of music well, you may find that everything feels completely fresh. The "surprise" in Symphony No. 94 — those sudden chordal shocks that punctuate the second movement — still arrive arrive unexpectedly. The violent strike that opens the "Infernal Dance" in Stravinsky's suite from "The Firebird" ices your gut and tenses your muscles. Being that close to the source gives you a tactile enjoyment as you feel the movement in the floor make its way through your bones. You realize that focusing in on just one instrument heightens your sensitivity to it, kind of like how fixing your gaze to one blade of a ceiling fan allows you to track it with ease amidst the blur of the whir. Rosin flies through the air as you meditate on the timbre of the violins on either side of you. The sound of violas becomes clearer than ever, as do that of the other instruments which might get lost in the hum of an orchestral arrangement.
Bernard hopes that this will become a more widely embraced concert practice, since all you need to pull it off is "a big room with great acoustics." However, that kind of space isn't widely available to many orchestras. At many concert halls it would be difficult to get an audience onto the stage, and even if space weren't an issue, there's the fact that most halls aren't designed to enjoy music in that way. But if those logistical kinks were to be worked out, there might not be a shortage of curious minds — the first InsideOut concert fit over 200 bodies comfortably in the room.
After the Stravinsky ended, one audience member noted that, for them, the experience was like looking at an oil painting. It's easy for the beauty of the canvas to captivate you from far away, but once you come closer at it, observing how each individual brush stroke contributes texture and shadow and light, the appreciation is magnified. That observation captures the impact that this kind of experience can have on a listener. If you are already a fan of the piece being performed, sitting in the orchestra may make you realize even a tiny detail that changes how you listen to the piece. For the novice, seeing the moving parts of the orchestra may lead to an understanding of the music as not one random and singular sonic flourish, but as the synchronized efforts of talented musicians each contributing their individual brush strokes to create a bigger, complex picture.
---
Listen below to Haydn's Symphony No. 94, "Surprise," and Igor Stravinsky's "The Firebird," the two pieces performed at the most recent InsideOut concert.
More in:
James Bennett II is a staff writer for WQXR.
The WQXR e-newsletter. Show highlights, links to music news, on-demand concerts, events from The Greene Space and more.