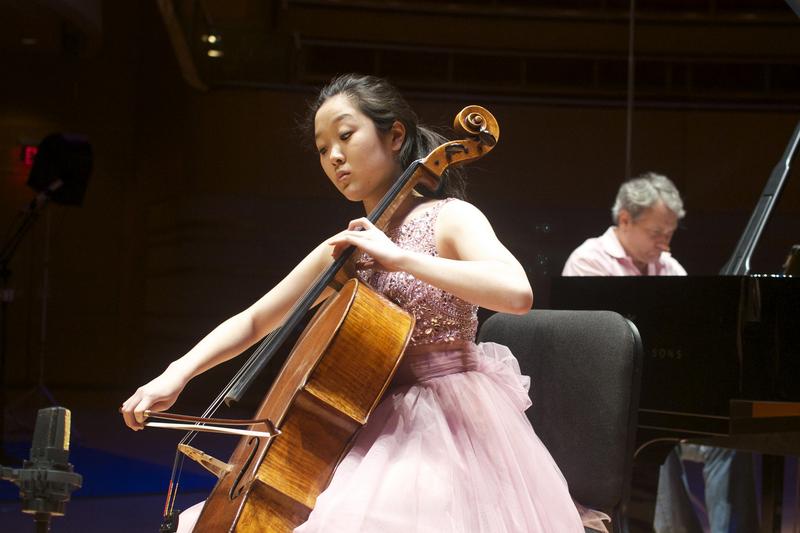 Presented by the Pacific Symphony, this week's From the Top comes to you from Segerstrom Concert Hall in Costa Mesa, Calif. Among the highlights, you'll hear the beautiful andante from the Rachmoninoff Cello Sonata in G minor performed by a 16-year-old from San Francisco, and enjoy a Buxtehude praeludium played by a teenage organist. Also, an award-winning choir sings pieces by Samuel Barber and Eric Whitacre, and a 14-year-old pianist plays Stravinsky.
Program details:
Organist and Jack Kent Cooke Young Artist Michael Jon Bennett, 15, from New York City, performs Praeludium in G minor, BuxWV 163 by Dietrich Buxtehude.
La Cañada High School Chamber Singers (Dr. Jeff Brookey, choral director), winning choir of KUSC's Local Vocals Sing-off, from La Cañada Flintridge, Calif., perform "Under the Willow Tree" by Samuel Barber, accompanied by Jenna Atias, and "With A Lily In Your Hand" from The Three Flower Songs by Eric Whitacre.
Pianist Anna Boonyanit, 14, from Redwood City, Calif., performs II. Chez Pétrouchka from Trois Mouvements de Pétrouchka by Igor Stravinsky.
Flutist Ramakrishnan Kumaran, 16, from Hemet, Calif., and Pacific Symphony principal flutist Ben Smolen perform the Rondo from Andante et Rondo, Op. 25 by Franz Doppler.
Cellist Ila Shon, 16, from San Francisco, performs III. Andante from the Sonata in G minor for Cello and Piano, Op.19 by Sergei Rachmaninoff.
Idyllwild Arts Academy Piano Trio (violinist Yu-Ming Ma, cellist Wei-An Hung, and pianist Vuthithorn Chinthammit) from Idyllwild, Calif., performs III. Presto from Café Music by Paul Schoenfield.