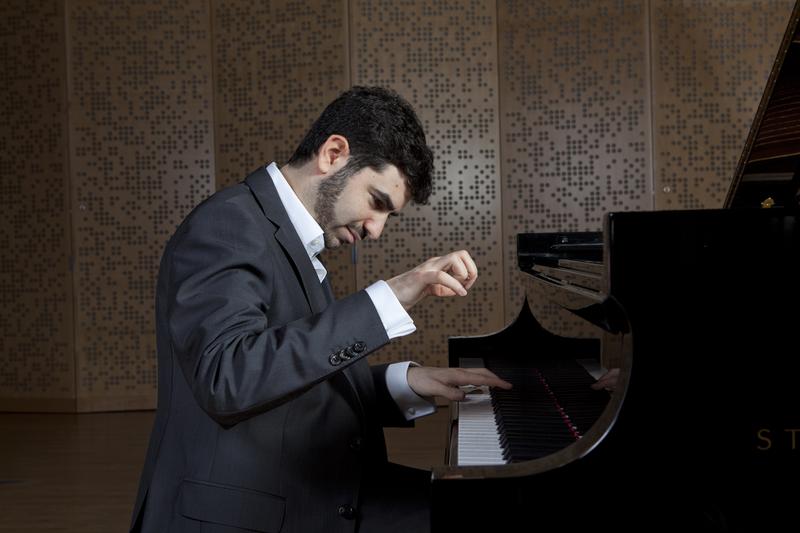 Pianist Michael Brown has made regular visits to the Young Artists Showcase, including a studio session two years ago, and has appeared as the winner of the 2010 Concert Artists Guild Victor Elmaleh Competition, as well as the 2012 William Petschek Piano Award at Juilliard.
In our studio this week, the pianist and composer performs Beethoven's Eroica Variations, a piece by his composition teacher George Perle, and some recent variations of his own. As he tells host Bob Sherman, Brown first discovered Perle's music as a teenager tuning in to WQXR. Perle became his teacher and mentor, and the pianist pays tribute with a pair of performances on this show, as well as a new CD of works by Perle on Bridge Records that comes out next month.
Brown has been busy this season with recitals in Europe, including his debut at London's Wigmore Hall with another Young Artists Showcase alum, violinist Elena Urioste. Here in New York, Brown has a pair of recitals coming up in May. First, a solo recital at the DiMenna Center, then a duo concert sponsored by the Concert Artists Guild at Barbès, a bar and performance space in Park Slope, Brooklyn.
Program Details:
George Perle: Chansons Cachées, for piano
George Perle: Classic Suite
Michael Brown: Folk Variations
Beethoven: Eroica Variations, Op. 35
— Michael Brown, piano.