The Song of the Bird
Sunday, November 10, 2013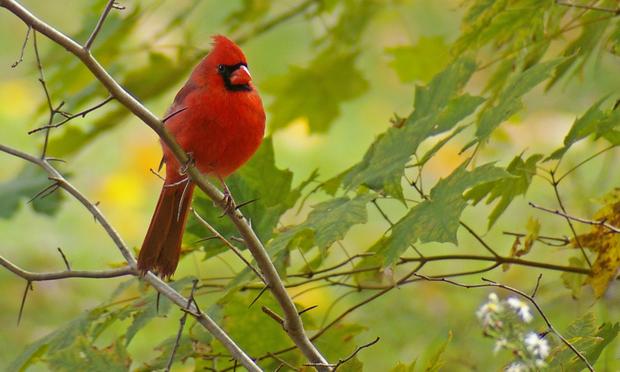 (goellnitz/flickr)
Kent Tritle, perhaps the only choral director who also lives with a Moluccan cockatoo, has assembled a flock of fine-feathered choral works for today's program. We hear bird-loving Bela Bartok's songs about birds, Eric Whitacre's brilliant evocation of birds in flight and a range of English works dating back to the Renaissance.
No other creatures in the animal kingdom have captured our collective imagination quite like birds. They're beautiful to watch, beautiful to hear and they have the freedom to fly. Some choral composers have imitated the sounds of birds in their works; others have presented birds as powerful metaphors in their texts.
Playlist
Voices of Western Backyard Birds:
Evening Grosbeak Calls, and American Goldfinch Song, Call
Macaulay Library
Cornell Lab of Ornithology
159 Sapsucker Woods Road
Ithaca, New York 14850
Bela Bartok: Twenty Seven Choruses
Hawk; Bird Song; The Bird's Promise
Schola Hungarica
Laszlo Dobszay, Conductor
Hungaroton Classic
Benjamin Britten: The Birds
Toronto Children's Choir
Simon Preston, Organ
Jean Ashworth Bartle, Conductor
Marquis Classics ERAD 133
Randall Thompson: Pelicanus is the Word
American Music From St. Thomas
St. Thomas Church, Fifth Ave, Orchestra of St. Luke's
KIC-CD 7567
Robert, Shaw: The Carol of The Birds
A Robert Shaw Christmas, Angels on High
Robert Shaw Chamber Singers,
Robert Shaw, Conductor
Telarc 80461
Eric Whitacre: Little Birds
BYU Singers
Eric Whitacre, Conductor
Shadow Water Music
Vaughan Williams: The Turtle Dove
Tenebrae
Nigel Short, Conductor
Signum UK 267
Edward Elgar: Owls [An Epitaph]
Finzi Singers
Paul Spicer, Conductor
Chandos 9269
Clement Janequin: Le Chant des Oyseaux
Ensemble Clement Janequin
Dominique Visse, Conductor
Harmonia Mundi Gold HMG501099
Felix Mendelssohn: Im Grünen, Op. 59: no 4, Die Nachtigall
Dresden Kreuz Choir
Roderich Kreile, Conductor
Deutsche Grammophon 459612
George Frederic Handel: Solomon, HWV 67 Final Chorus of Act 1: The Nightingale Chorus
Gabrieli Consort & Gabrieli Players
Paul McCreesh, Conductor
Archiv Produktion (Dg) 459688
Thomas Vautor: The First Set, beeing Songs of Divers Ayres and Natures: Sweet Suffolke Owle
Forbury Consort, Holbein Consort, Trinity Baroque
Julian Podger, Conductor
Griffin 4002
Orlando Gibbons: First Set of Madrigals and Mottets: The silver swanne
Hilliard Ensemble
Virgin Classics Veritas 61671
Orlando Gibbons: First Set of Madrigals and Mottets: Daintie fine bird
The Cambridge Singers members
John Rutter, Conductor
Collegium Records 511
Charles Villiers Stanford: Partsongs (8), Op. 119: no 3, The Bluebird
Oxford New College Choir
Edward Higginbottom, Conductor
Decca 470 384-2
Paul McCartney: Blackbird
King's Singers
Stephen Connolly, Bass; Robin Tyson, Countertenor; Paul Phoenix, Tenor; David Hurley, Countertenor; Christopher Gabbitas, Baritone; Philip Lawson, Baritone
Signum UK 120
The WQXR e-newsletter. Show highlights, links to music news, on-demand concerts, events from The Greene Space and more.