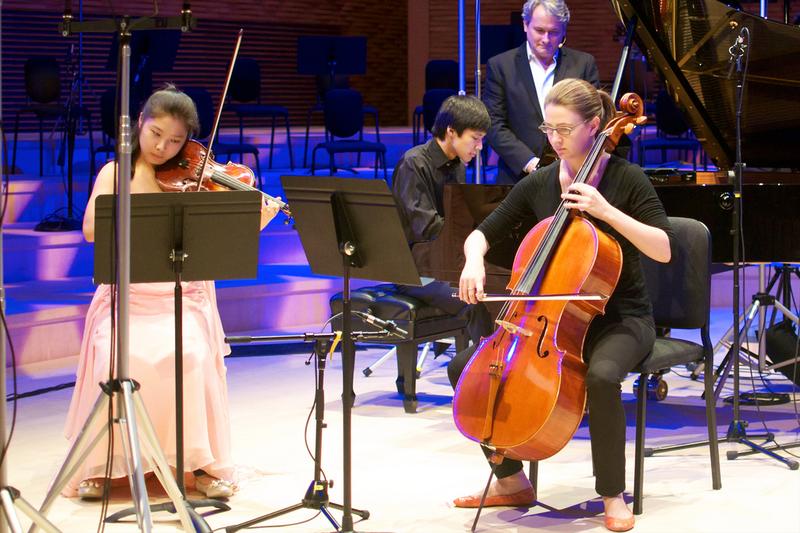 From Stanford University, this week's From the Top features an all-California crew of performers including an extraordinary 12-year-old guitarist from the Bay Area performing the music of Villa-Lobos; the San Francisco Girls Chorus singing a beautiful arrangement of a song from Joni Mitchell's first album; and a funny story about a young pianist who found himself destroying his own piano by practicing too much.
Program playlist:
Stanford Alumni Piano Trio performs III. Scherzo: Leggiero e vivace from Piano Trio No. 1 in D minor, Op. 49, by Felix Mendelssohn (1809-1847).
Violinist Youjin Lee, 18, from Los Angeles.
Cellist Anna Wittstruck, 26, from Asheville, N.C.
Pianist Hugo Kitano, 18, from San Francisco, Calif.
Pianist David Yu, 18, from Diamond Bar, Calif., performs I. So rasch wie möglich from Sonata No. 2 in G minor, Op. 22, by Robert Schumann (1810-1856).
San Francisco Girls Chorus, Valérie Sainte-Agathe, music director and principal conductor, performs "Slav'sya" (Be Glorious) from Six Choruses, Op. 15, by Sergei Rachmaninoff (1873-1943), accompanied by Susan Soehner; and "The Pirate of Penance" by Joni Mitchell, arranged and accompanied by Christopher O'Riley.
Guitarist Chase Onodera, 12, from Sacramento, performs Prelude No. 1 in E minor, Andantino espressivo, by Heitor Villa-Lobos (1887-1959).
Violinist Youjin Lee, 18, from Los Angeles, performs Solo Sonata in E major, Op. 27, No. 6 by Eugène Ysaÿe (1858-1931).
Christopher O'Riley, piano, and the Stanford Symphony Orchestra, Jindong Cai, conductor, performs III. Presto from Concerto in G major for Piano and Orchestra by Maurice Ravel (1875-1937).