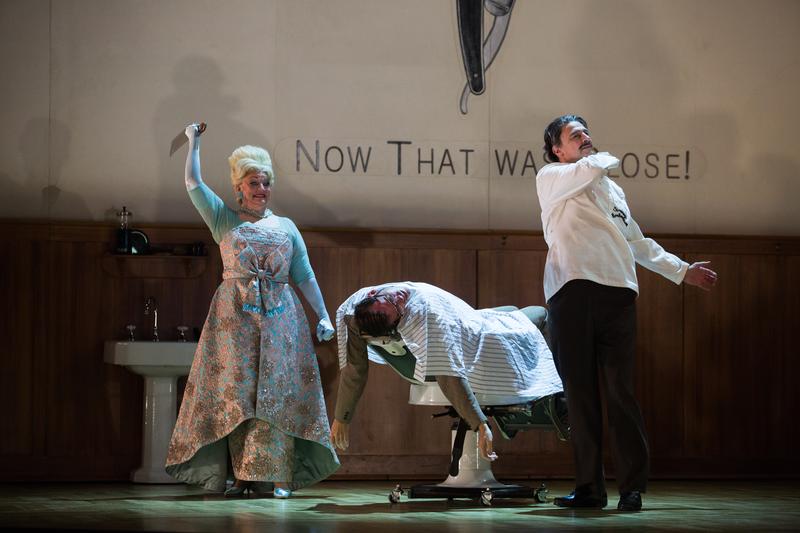 Stephen Sondheim's Sweeney Todd: The Demon Barber of Fleet Street, is our opening broadcast from the 2016 Glimmerglass Festival. Greer Grimsley stars in the title role, with his real-life wife Luretta Bybee as Mrs. Lovett. Listen to the full opera in the player above.
Sweeney Todd is enormously popular as a musical, one of Sondheim's best-known shows. Despite the catchy tunes, it's a musical experiment, an attempt to shock and scare the audience. The Broadway musical is based on a play by Christopher Bond. Sondheim wrote the music and lyrics to a book by Hugh Wheeler.
The show won the Tony Award for Best Musical in 1979, and has since had many revivals and a film version. Just five years after it premiered on Broadway, it was presented as an opera by the Houston Grand Opera. John DeMain conducted that first opera version and he's conducting this Glimmerglass performance.
Host Annie Bergen talks to members of the cast during intermission, including conversations with Grimsley, director Christopher Alden and the conductor.
Intermission Preview:
Cast:
Sweeney Todd: Greer Grimsley
Mrs. Lovett: Luretta Bybee
Anthony Hope: Harry Greenleaf
Johanna Barker: Emily Pogorelc
Judge Turpin: Peter Volpe
Tobias Ragg: Nicholas Nestorak
Beadle Bamford: Bille Bruley
Beggar Woman: Patricia Schuman
Adolfo Pirelli: Christopher Bozeka
The Glimmerglass Festival Orchestra
John DeMain, conductor