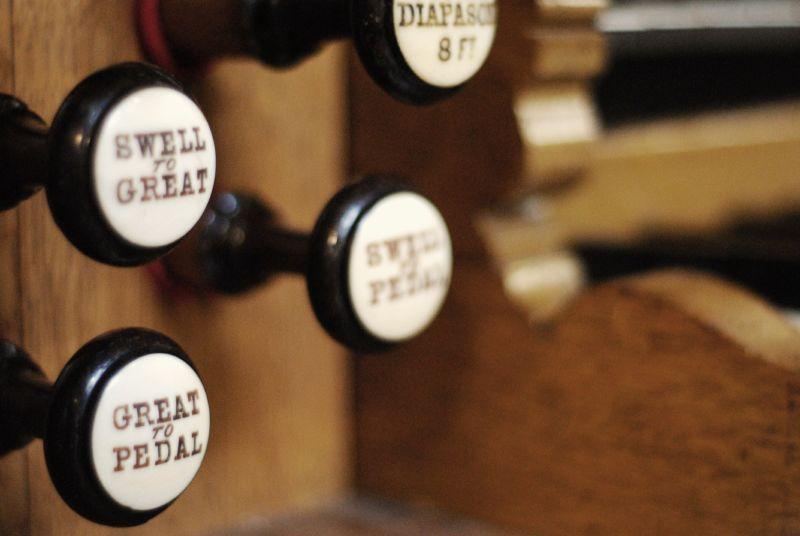 Along with the usual sorts of musical hookups, the pipe organ gets along pretty well with guitar, panflute, bassoon and taragot.
Program playlist:
RADITIONAL:  Romanian Suite No. 1 –Samuel Freiburghaus,taragot; Thilo Muster (1973 Neidhart & Lhote/Reformed Church, Arlesheim, Switzerland) Gallo 1439.
JESSIE SEYMOUR IRVINE:  The Lord is my shepherd.  TRADITIONAL (arr. Hoeve):  I love the Lord –Noortje van Middelkoop, panflute; Hendrie Westra, xylophone; Anja van der Maten, oboe; Harm Hoeve, organ.  (1845 Naber/Joriskerk, Amersfoort, The Netherlands)  CM&R 106.
EVAN COGSWELL:  The Consecration –Haley Hewitt, harp;Chelsea Tinsler, percussion; Evan Cogswell (1971 Gress-Miles/Hartt School of Music, Hartford, CT) Pipedreams Archive (r. 3/7/2011).
CHRIS DeBLASIO:  God is our righteousness –Stephen Robinson, guitar; Boyd Jones (1961 Beckerath/Stetson University, DeLand, FL) Clear Note 2008.
ALAN STOUT:  Serenity –Kevin Schilling, bassoon; Lynn Ziegler(1987 Brombaugh/Tye Recital Hall, Iowa State University, Ames, IA) Calcante 26.
NAJI HAKIM:  Variations on How brightly shines the Morningstar –Piotr Lis, oboe; Jakub Kwintal (1978 Eisenbarth/Lodz Cathedral, Poland).