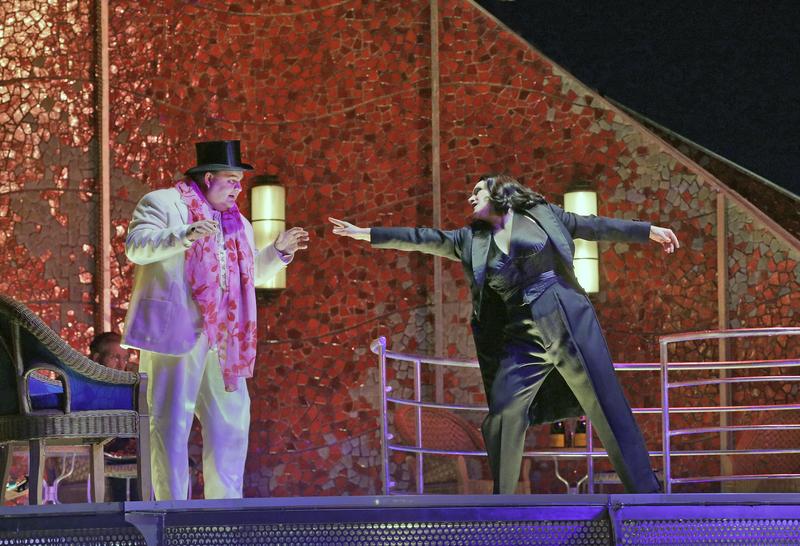 Tune in at 1 pm Saturday for the radio broadcast of Richard Strauss's Salome.
The fact that Salome is now considered a part of the standard operatic repertoire is particularly interesting, given the scandal and backlash it provoked after its 1905 premier. The opera, based on a German translation of a French play by Oscar Wilde, recounts the biblical story of Salome. Salome, the daughter of King Herod, lusts after the king's prisoner Jochannan (John the Baptist). Jochannan rebuffs her advances, but soon Salome spies another opportunity — her father demands she dance at a banquet, in exchange for anything she wants.
That dance, "The Dance of the Seven Veils," was the source of a specific outrage. Although Strauss intended it to be modest, producers embraced much more erotic overtones. Some singers refused to do the dance, requesting a body double be used instead.
Salome's union of the holy with the profane caused Strauss's one-act opera to be banned in a number of cities including London, Vienna and New York.
Patricia Racette will be taking on the role of the title character. This is her first turn as Salome at the Met Opera. Interestingly enough, she stepped in after the previous actress fell ill, and has provided a riveting performance that has received critical praise.
Saturday's production is helmed by director Jurgen Flimm, whose previous credits include directions at La Scala, Vienna State Opera and the Royal Opera House.
Salome is the subject of our lasest episode of the He Sang, She Sang podcast, which you can listen to here.
Cast:
Patricia Racette: Salome
Nancy Fabiola Herrera: Herodias
Gerhard Siegel: Herod
Kang Wang: Narraboth
Željko Lučić: Jocahannan
Johannes Debus, conductor