Strauss Week on Operavore
Hear complete Strauss operas all week on the Operavore stream.
Thursday, June 05, 2014 - 12:00 AM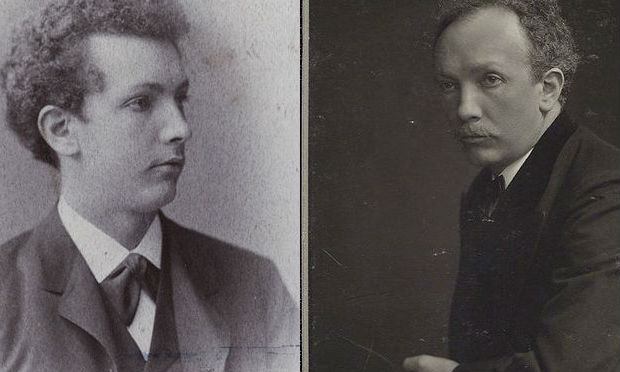 From June 9-13, WQXR is celebrating the 150th anniversary of composer Richard Strauss's birth by playing two of his operas each day starting at 10 am on the Operavore stream. His official birthday is June 11.
Operavore is WQXR's digital 24/7 audio stream, blog and weekly radio show devoted to opera.

More

In honor of Richard Strauss's 150th birthday, WQXR presents a week of special programming devoted to the German composer's life and works.

More

Recommended Links
Strauss created a body of unforgettable operas that have long been fixtures of the repertoire. His music is often demanding and for that reason he didn't see immediate success. However, when Salome premiered in 1905, Strauss was hailed a new modernist voice in opera. The narrative was as compelling as the music, and featured a stunning femme fatale.
In 1908, Strauss produced a daring opera called Elektra with an even bigger orchestra. The success of that work cemented his relationship with the librettist Hugo von Hofmannsthal. Together they wrote many operas, including Der Rosenkavalier, Ariadne auf Naxos, Die Frau ohne Schatten and Arabella. In 1919, Strauss became co-director of the Vienna Staatsoper, a post he held for five years.
The Strauss Week schedule on Operavore:
Monday
Guntram
Guntram: Reiner Goldberg
Freihild: Illona Tokody
Der alt Herzog: Sandor Sólyom-Nagy
Robert: István Gáti
Des Herzogs Narr: János Bándi
Conductor: Eve Queler
Hungarian Army Chorus
Hungarian State Orchestra
 
Der Rosenkavalier
Die Feldmarschallin: Elizabeth Schwarzkopf
Der Beron Ochs Auf Lerchenau: Otto Edelmann
Octavian: Christa Ludwig
Herr Von Faninal: Eberhard Wächter
Sophie: Teresa Stich-Randall
Marianne: Ljuba Welitsch
Valzacchi: Paul Kuen
Annina: Kerstein Meyer
Ein Sänger: Nicolai Gedda
Conductor: Herbert Von Karajan
Philharmonia Orchestra and Chorus
Tuesday
Arabella
Arabella: Lisa Della Casa
Mandryka: Dietrich Fischer-Dieskau
Zdenka: Anneliese Rothenberger
Graf Waldner: Karl Christian Kohn
Adelaide: Ira Malaniuk
Conductor: Joseph Keilberth
Bayerischer Staatsopernchor
Bayerisches Staatsorchester
 
Elektra
Conductor: Sir Georg Solti
Klytämnestra: Regina Resnik
Elektra: Birgit Nilsson
Chrysothemis: Marie Collier
Aegisth: Gerhard Stolze
Orest: Tom Krause
Conductor: Sir Georg Solti
Wiener Philharmoniker
Wednesday
Die Liebe der Danae
Jupiter: Paul Schöffler
Merkur: Josef Traxel
Pollux: Lászlo Szémere
Danae: Annelies Kupper
Xanthe: Anny Felbermayer
Midas: Josef Gostič
Conductor: Clemens Krauss
Chor der Wiener Staatsoper
Wiener Philharmoniker
Die Frau ohne Schatten 
The Nurse: Ildikó Komlósi
The Emperor: Torsten Kerl
The Empress: Anne Schwanewilms
The Dyer's Wife: Christine Goerke
Barak, the Dyer: Johan Reuter
Keikobad: Richard Paul Fink
Conductor: Vladimir Jurowski
Metropolitan Opera Orchestra and Chorus
Thursday
Ariadne auf naxos
Primadonna/ Ariadne: Deborah Voigt
Der Komponist: Anne Sofie von Otter
Zerbinetta: Natalie Dessay
Der Tenor/Bacchus: Ben Heppner
Ein Musiklehrer: Albert Dohmen
Conductor: Giuseppe Sinopoli
Staatskapelle Dresden
 
Daphne
Daphne: Renee Fleming
Peneios: Kwanchul Yoon
Gaea: Anna Larsson
Leukippos: Michael Schade
Erster Schäfer: Eike Wilm Schulte
Zweiter Schäfer: Cosmin Ifrim
Dritter Schäfer: Gregory Reinhart
Vierter Schäfer: Carsten Wittmoser
Erste Magd: Julia Kleiter
Zweite Magd: Twyla Robinson
Conductor: Semyon Bychkov
Herren des WDR Rundfunkchors Köln
WDR Sinfonieorchester Köln
Friday
Salome
Herodes: Horst Hiestermann
Herodias: Leonie Rysanek
Salome: Cheryl Studer
Jochanaan (Johannes der Täufer): Bryn Terfel
Conductor: Giuseppe Sinopoli
Orchester der Deutschen Oper Berlin
 
Capriccio
Die Gräfin: Gundula Janowitz
Der Graf, ihr Bruder: Dietrich Fischer-Dieskau
Flammand, ein Musiker: Peter Schreier
Olivier, ein Dichter: Hermann Prey
La Roche, der Theaterdirektor: Karl Ridderbusch
Conductor: Karl Böhm
Die Schauspielerin Clairon: Tatiana Troyanos
Symphonierorchester des Bayerischen Rundfunks p>
More in:
The WQXR e-newsletter. Show highlights, links to music news, on-demand concerts, events from The Greene Space and more.