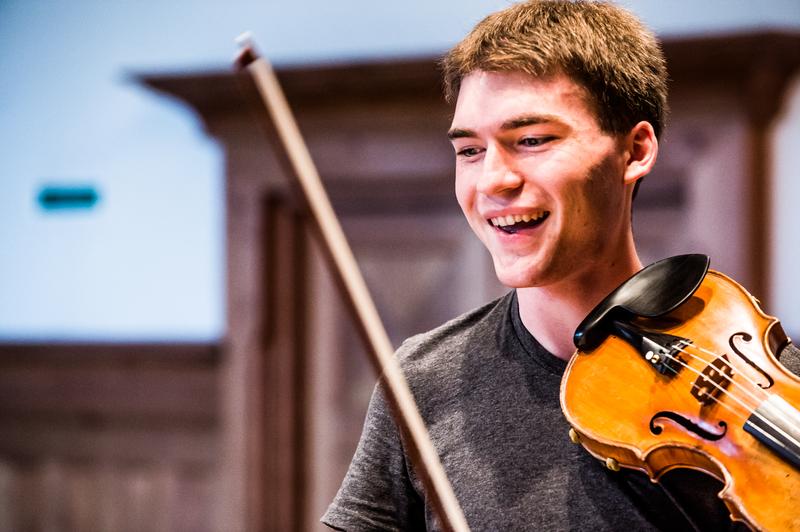 In this special studio session, violinist Alexi Kenney explores a wide range of violin repertoire from an obscure Baroque solo suite to a Piazzolla Tango Etude. Kenney came to our attention two years ago after winning the Concert Artists Guild Victor Elmaleh Competition at the age of 19. Born in Palo Alto, Calif., Kenney now studies with Miriam Fried and Donald Weilerstein at the New England Conservatory of Music in Boston.
Joining him in the studio is pianist Renana Gutman, who is also a prize-winner. A native of Israel, Gutman began her piano studies at the age of 6 and recently spent summers at the Marlboro and Ravinia Music Festivals, collaborating with Richard Goode and Mitsuko Uchida. Gutman now teaches in New York at the 92nd Street Y.
Together in the Young Artists Showcase studio, Kenney and Gutman perform pieces by Schumann, Enescu and Piazzolla, in a preview of their Weill Hall recital on Tuesday, March 31, presented by the Concert Artists Guild.
Program playlist:
Johann Paul von Westhoff: Partita No. 2 in A major for solo violin
George Enescu: First movement from Violin Sonata No.3, Op.25
Robert Schumann: First and third movements from Violin Sonata No.2, Op.121
Astor Piazzolla: Tango Etude No. 3
— Alexi Kenney, violin; Renana Gutman, piano. Recorded in the Young Artists Showcase studio.