Episode #1609
Theatre Pipes
Sunday, March 06, 2016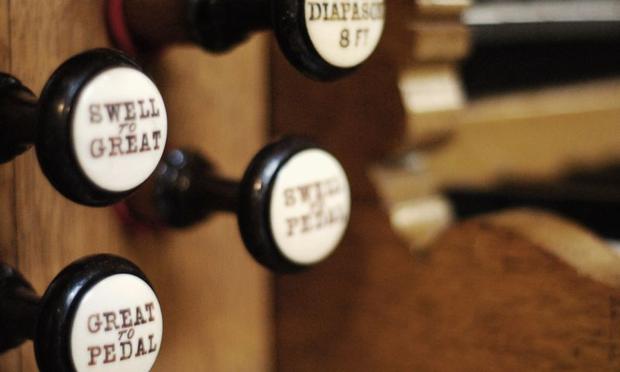 (JMC Photos/flickr)
Ken Double of the American Theatre Organ Society joins host Michael Barone to explore the use of the instrument in popular musical entertainment and show tunes by Cole Porter, Richard Rodgers and Jules Styne, among others. Featured in the program are organs from theaters around the country, including Columbus, Seattle and Beverly Hills.
Program Playlist:
Jule Styne: Don't rain on my parade, fr Funny Girl
Clark Wilson (Robert Morton/Ohio Theatre, Columbus, OH)
Trevor Duncan: March, fr A Little Suite
Richard Hills(Wurlitzer/Aveni Music Salon, Cleveland, OH)
Eubie Blake:Memories of you
Skip Stine, trumpet; Ken Double(Kilgen/Palace Theatre, Canton, OH)
Richard Rodgers: Have you met Miss Jones?, fr I'd rather be right 
Tony Fenelon (Wurlitzer/Paramount Theatre, Seattle, WA)
Percy Faith: Brazilian Sleigh Bells
Donna Parker (Kimball/Cleveland High School, Portland, OR)
Tommy Connor: Be like a kettle and sing 
Ron Rhode (Wurlitzer/Hanover Theatre, Hanover, MA)
Cole Porter:Love for sale, fr The New Yorkers 
Mark Herman (Wurlitzer/Shanklin Music Hall, Groton, MA)
Walter Marks: I've got to be me, fr Golden Rainbow
Jonathan Ortloff (Wurlitzer/Providence Performing Arts Center, RI)
Vincent Youmans: Sing Hallelujah!, fr Hit the Deck
Chris Gorsuch (Shanklin Music Hall).
Vincent Youmans: That forgotten melody 
Lyn Larsen (Wurlitzer/Trousdale Castle, Beverly Hills, CA)
Max Steiner: King Kong March
Chris Elliott (Wurlitzer/Plummer Auditorium, Fullerton, CA)
Sammy Fain: Secret love
Walt Strony (Möller/Civic Auditorium, Pasadena, CA)
Filler — Rodgers (see above)
The WQXR e-newsletter. Show highlights, links to music news, on-demand concerts, events from The Greene Space and more.