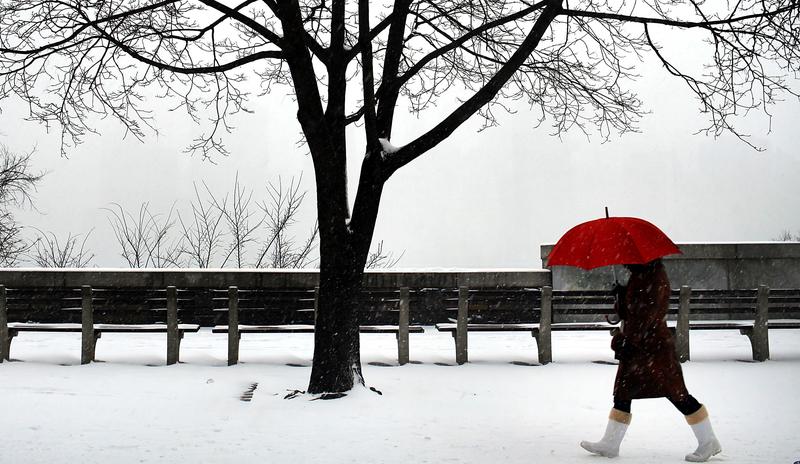 Snowflakes danced for both Tchaikovsky and Debussy, but anyone suffering during this frigid winter season can probably relate better to the existential anguish suffered underneath a blankets of snow than the romanticized version. We've gathered five works that best describe this brutally cold season.
1. With individual songs titled "Frozen Tears," "Numbness," and "Thoughts of Springtime" Schubert's Winterreise captures the season at its chilliest, both literally and metaphorically. The works' protagonist, a poet, ventures out into a snowy evening. As he wanders farther from home, he shivers through the cold, grieves for his lost love, and laments his own loneliness. Brief glimpses of hope and warmer times are drowned out in the bleakness of Schubert's winterscape.
2. David Lang's Pulitzer-Prize winning work for chorus, Little Match Girl Passion, sets to music the classic Hans Christian Andersen story about a young girl, who freezes to death trying to sell matches to help support her abusive father. She wanders barefoot through the snow, and tragically, she uses up all her matches trying to warm her frostbitten fingers. Scored for four voices and spare percussion, the haunting piece has a succinct score to match the desolation described in the libretto.
3. The "Winter" of Vivaldi's Four Seasons is a force of nature, with whipping winds, driving snows and treacherous ice. In the sonnets Vivaldi wrote to accompany his most famous work, the composer describes this concerto's opening movement as chattering teeth; the bitter cold contrasts with the warmth of a roaring fire in the second movement; and the third and final movement turns back outside along frozen paths—a familiar scenario for any New Yorker over the past two months.
4. Thomas Hardy, a frequent source of inspiration for Benjamin Britten, inspired the composer's song cycle Winter Words. It begins with a harbinger of the season, leaves falling off trees in November. It then sets several icy scenes, especially "The chorusmaster's burial," the fifth of the eight songs. The Britten-Pears Foundation, calls the works "leaner" than Britten's previous compositions—an appropriate description for the season.
5. Originally written for the 1948 film, Scott of Antartic, Ralph Vaughan Williams's Sinfonia Antartica was created out of his movie score. Both the film and symphony tell the story of Robert Falcon Scott's failed Terra Nova expedition to the South Pole. Scott's team made it to the Pole to discover that a team of Norwegians had been there first. On the way back, all five members of the team, including Scott, died from exposure. The eerie glacial qualities of Vaughan Williams's work is the composer at his most atonal, evokes the barren landscape at the Pole.