Top Five Most Eccentric Crossover Duets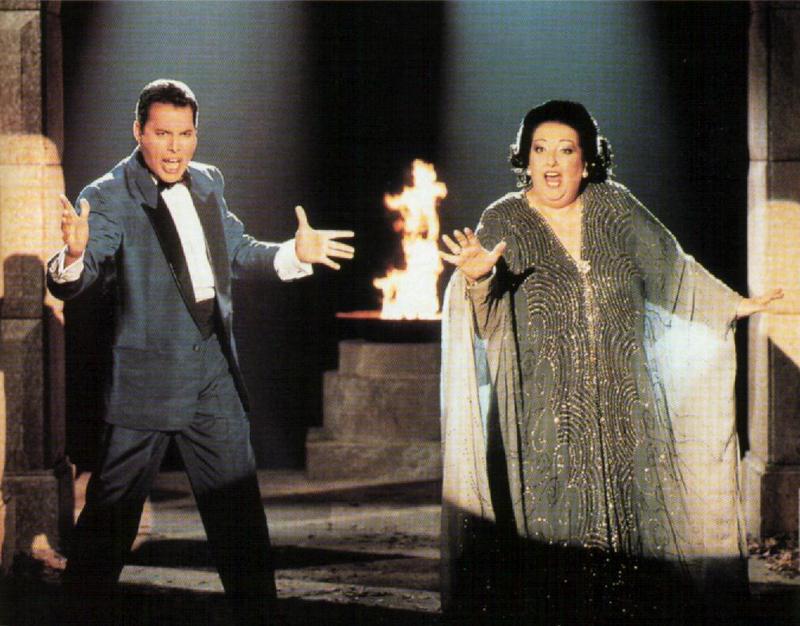 Well before Oscar Madison mussed up Felix Ungar's spotless existence, odd couplings have provided the inspiration for surprising theater, dance, film and music. We're always on the lookout for an unconventional duo that reaches across genres, even if the results aren't as melodious as we'd wish. Here are the top five strangest pairings:
1. Luciano Pavarotti and Skunk Anansie
The Pavarotti and Friends series created some odd bedfellows for the Italian tenor, none more so than the British band Skunk Anansie. Led by a female singer with a shaved head, Skin, Skunk Anansie was named for a spider character out of Ghanaian folktales, Anansi. Skunk was added in front "to sound nastier." A combined interest in bringing attention to human right violations in Cambodia and Tibet brought Pavarotti together with the feminist rock group for a head-scratching performance of the band's song "You'll Follow Me Down."
2. Montserrat Caballé and Freddie Mercury
The 1992 Olympics in Barcelona inspired the creation of the Dream Team, a united German squad for the first time since before World War II, and an unforgettable duet between the venerable soprano Montserrat Caballé and Queen frontman Freddie Mercury. When the city of Barcelona was chosen as host, it commissioned Mercury to write an album, eventually titled "Barcelona," to drum up excitement for the Games. Caballé, a native of the Catalan city, was an obvious choice—if only to organizers— to include on the album. But even more surprisingly, the title track duet was a hit.
3. Placido Domingo and John Denver
Placido Domingo and John Denver created probably the most successful classical-country crossover album with 1981's "Perhaps Love," which features the titular treacly and sincere ballad. Though this cross-genre pair seemed unusual at the time, it created a precedent among opera singers, one that's explored on the tribute album, Great Voices Sing John Denver. Domingo reprises the duet with his son Placido Domingo Jr. whose career rests mainly in the crossover realm. 
4. Anne Sophie Von Otter and Benny Anderson

Being Swedish, Anne Sophie Von Otter's love of Abba should be no revelation. However, when the esteemed mezzo decided to work with ABBA member Benny Anderson on a CD of the Scandinavian group's covers, it was a bit of the shocker. Known better for singing Mozart, she recorded disco-hall hits like "Money, Money, Money," for the album "I Let the Music Speak."
5.  Joshua Bell and Frankie Moreno
What happens when a classical violinist walks in on a lounge pianist at the bar of the Golden Nugget in Las Vegas? No this isn't a joke, but the actual circumstances under which Joshua Bell met the singer-pianist Frankie Moreno. The two hit it off so well that Bell invited Moreno to a jam session, whereupon they came up with an arrangement of the Beatles's "Eleanor Rigby," one of three pop songs Bell owns up to knowing. The pair performed it during the PBS program "Joshua Bell at Home With Friends" (Moreno is introduced at 36:30). The pop culture influence must have taken hold on Bell. He was recently a judge for the Miss America contest.
Listen to Joshua Bell & Frankie Moreno WNYC's Soundcheck in The Greene Space:


Even the finest artists have their questionable collaborations. What's the oddest crossover pairing you've encountered? Leave your comments below.