Top Five Musical Pieces for Toys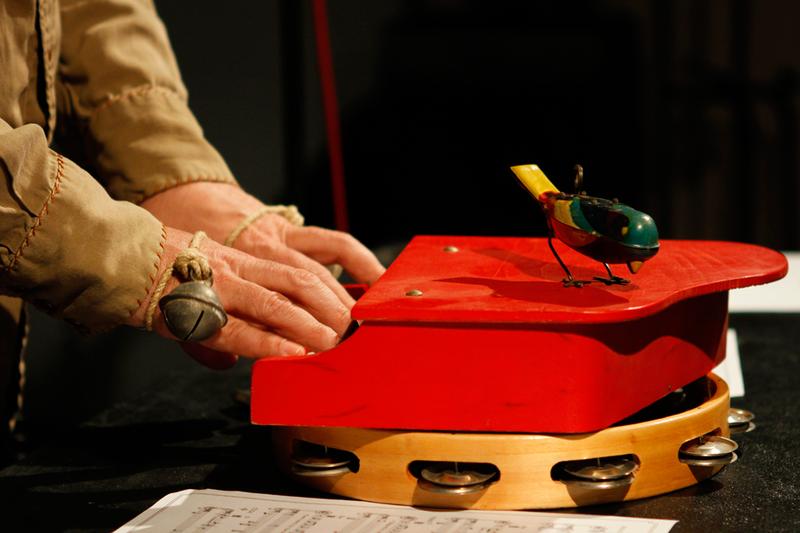 At this time of year, toys are everywhere: in Santa's workshop, under the Christmas tree, and even in the orchestra pit. For more than two centuries, composers have been writing children's playthings into their scores.
Though the trend seems to intensify during the holiday season, toy trumpets, piano, rattles and whistles are not totally uncommon in a classical music concert. Here are five pieces that incorporate these non-traditional instruments.
1. Tchaikovsky's The Nutcracker

When Tchaikovsky wrote the score for his beloved ballet, The Nutcracker, he included a number of unconventional instruments and effects, such as the ethereal celesta, to create the magical setting. However, when it came to scoring the music for the less fantastical first-act party scene, the composer called for a rattle and toy trumpet, among other authentic toys that the children in the ballet would have played with. "The Nutcracker is simply one of the great miracles in music," said Sir Simon Rattle, who instructed the Berlin Philharmonic to make "party noises" with toy guns, bells and other nicknacks.
2. Leopold Mozart's Toy Symphony
Once attributed to Josef Haydn as well as his lesser-known brother, Michael, the Toy Symphony in now credited to Leopold Mozart (though some point out that Mozart's version may be based on a tune by the 18th century Benedictine Monk Edmund Angerer). True to its name, this work calls for toy cuckoos, nightingales, ratchets, a drum and a trumpet. (The elder Mozart also included fanciful instruments such as sleigh bells in his equally delightful Musical Sleigh Ride). The piece is still a favorite piece for introducing children to the orchestra.
3. Tod Machover's Toy Symphony
Not to be confused with the previous work of the same name, Tod Machover's Toy Symphony is both a composition and a project to introduce children. Machover, a professor at MIT, created electronic musical "toys" that children play as part of the works that were included in the project. Machover's symphony, which also features children playing his electronic inventions, was the finale of the program. Toy Symphony toured throughout the world, making a stop at the World Financial Center in Lower Manhattan in 2003.
• Hear Selections on WNYC's New Sounds
4. John Cage's Suite for Toy Piano
With defenders such as Phyllis Chen, the toy piano is becoming a more frequent addition to the concert circuit. Her second Uncaged Toy Piano Festival just wrapped up in New York. However, it is the festival's namesake, John Cage, who still boasts the most famous piece for the diminutive instrument, his Suite for Toy Piano. Barely six minutes long with five short movements, the piece uses the instrument's limited range and it's tinny sound to its advantages.
• Hear Phyllis Chen on the Young Artist Showcase
5. HK Gruber's Frankenstein!!
In HK Gruber's Frankenstein!!, the composer and performer uses penny whistles, kazoos, toy car horns (as well as a real vintage car horn), toy clarinets and trumpets, paper bags and bird warblers. With pop culture and comic book characters making appearances in the work, as well, it's easy to mistake this piece on its surface for a children's piece. Yet, Gruber's suite exudes a much darker humor—he calls it subversive—embracing the macabre and violence that permeates these modern day myths.
HK Gruber with toys at WQXR (Kim Nowack/WQXR)