Top New-Music Moments of 2016
Tuesday, December 20, 2016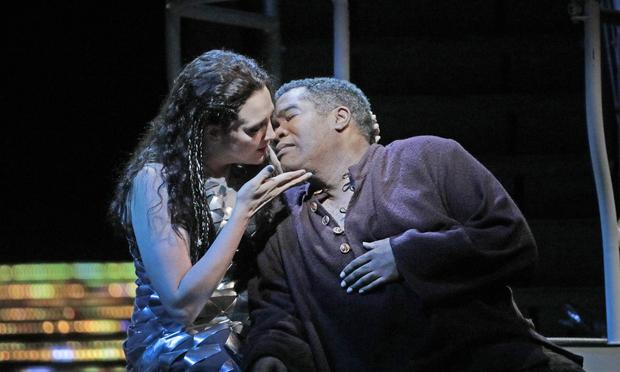 (Ken Howard/Metropolitan Opera)
Living Music. Living Composers.

More
As 2016 draws to a close, Q2 Music staff and writers look back on some of the most uplifting, imagination-gripping, and breathtaking musical achievements of the past year. From moments when cities staged ambitious, celebratory new-music festivals to individual artists whose powerful work broke through the noise, this list shares a small cross-section of our favorite contemporary music-making.
Please write your own standout moments and artists in the comments section below, and join us in toasting 2017 with the energy of joy, innovation and driveway-listening that characterized 2016.
New-Music Revelations of 2016
Hans Abrahamsen, Composer 
In the midst of the many horrors unleashed by 2016, I frequently found cause to retreat to the frigid beauty of Danish composer Hans Abrahamsen. Though previously unknown in the U.S., Abrahamsen suddenly came onto the radar when his song cycle let me tell you won the Grawemeyer Award last year. The recording of let me tell you has become weekly required listening, and the gossamer textures of the work were even more impressive when rendered by the Cleveland Orchestra and superstar soprano Barbara Hannigan at Carnegie in January. A performance of his strangely haunting Schnee at Miller Theatre in March cemented 2016 as the Year of Abrahamsen; let's hope that a U.S. presenter will take on his next wintry project, an opera based on the story of the Snow Queen. –William Robin
Barbara Hannigan, Conductor and Soprano
It was a very good year for Hans Abrahamsen – and Erik Satie, for that matter – in large part due to Barbara Hannigan. First, she was the "onlie begetter" of Abrahamsen's let me tell you, which seems to have achieved instant immortality, as if history was merely waiting for the stars to align for her coloratura to soar in Abrahamsen's magical score. (I was at Carnegie that night in January when her voice trailed off into the ether and we all stopped breathing.) Then came her Satie recital with Reinbert de Leeuw and it's love all over again, like we'd never really heard what that music could sound like before. What else? Lulu? Pelléas? Alice's Adventures? Singing while conducting Ligeti's Le Grand Macabre in a vinyl dress? Yes, yes, yes, and YES! So, it's official, as of 2016 we have yet to find out what Barbara Hannigan cannot do incredibly well. –Phil Kline
Chaya Czernowin, Composer
Chaya Czernowin deconstructs orchestral ingredients into intriguing organic noise on The Quiet, which was released this year on Wergo Records. Where melody and development typically have primacy in orchestral music, Czernowin shifts the focus to textural experimentation and exploration of the farthest dimensions of the full ensemble. Esh, for countertenor and orchestra, sighs and rings like an elemental prayer, and the screeching, sliding White Wind Waiting incorporates a bone-chilling electric guitar. –Zoe Madonna
Ear Taxi Festival, Chicago New-Music Festival
Us new-music misfits around Chicago are still a little bewildered at how composer Augusta Read Thomas pulled off the city's largest-ever contemporary music celebration with Ear Taxi Festival. Featuring 88 composers, 25 ensembles, countless musicians (including soprano Whitney Morrison, pictured above) and 54 world premieres – all Chicago-based or affiliated – Thomas's staggering vision helped introduce the city to a thriving music scene hiding in plain sight, and for many of us, clarified the need for more diversity and inclusivity moving forward. Ear Taxi was a gift to Chicago, and the most inspiring example I found all year of transforming a big idea into a big reality. –Doyle Armbrust
Kaija Saariaho's L'Amour de Loin, Opera
I didn't want to celebrate the Met premiere of Kaija Saariaho's L'Amour de Loin purely because of Saariaho's gender – why celebrate something 100 years overdue? So it was a distinct pleasure to hear a gorgeous composition, filled with unique characterizing melodies for the leads and sumptuous rhythms for the chorus, as much as it was a distinct pleasure to see a female composer take a bow. –Alexandra Svokos
Alan Gilbert, New York Philharmonic Music Director 
It might seem like an obvious choice, but nothing should be taken for granted about the sustained scope of New York Philharmonic music director Alan Gilbert's commitment to new music – the crowning achievement of which being this spring's NY Phil Biennial. Over the course of his eight seasons as director, Gilbert has cultivated a climate where new classical music has never seemed more at home, so much so that it's tempting to overlook how radical a change this represents from decades past. With two Biennials, CONTACT! new-music shows, composers-in-residence, ambitious multidisciplinary statements like the New York premiere of György Ligeti's opera Le Grand Macabre, Gilbert is leaving a legacy as bold in vision as methodical and inevitable in execution. –Alex Ambrose
Wang Lu, Composer
Don't be late to the party like I was on Wang Lu's music. Having previously had just a passing familiarity with her work, I finally did myself the service of investigating it further this year (hearing the premiere of her Cloud Intimacy at the Mostly Mozart Festival, then touring with her Urban Inventory). Wang's music provides poetic and deeply personal commentary on the whole of modern civilization, meditating with equal gravitas on Tiananmen Square and Tinder. The results are in turns cheeky and devastating, and the sheer sound of it is utterly her own. –Patrick Castillo
Christopher Rountree, Conductor and Composer
His nonconformist new-music collective wildUp has been an invigorating shot in the arm since 2010, but in the last two years, conductor and composer Christopher Rountree has also found his footing as a formidable free agent. In 2016 alone, he conducted David Lang's new opera anatomy theatre, led the Interlochen Academy Orchestra at the New York Phil Biennial, guested with the San Francisco Symphony and composed music about frozen yogurt left on the porch for violinist Jennifer Koh. His wildUp took on Coltrane at Brooklyn's National Sawdust, made numerous appearances with the LA Phil and collaborated with Wordless Music (under the baton of Ryan McAdams) to perform a stunning live score to Paul Thomas Anderson's Punch-Drunk Love, among plenty of other badassery. Rountree also does a mean Instagram takeover. –Hannis Brown
What new classical music discoveries blew your mind this year? Concerts that took your breath away or composers that changed your world? Let us know in the comments below.
More in:
The WQXR e-newsletter. Show highlights, links to music news, on-demand concerts, events from The Greene Space and more.