Unpacking the 2017 Oscar Nominees for Best Original Score
Tuesday, January 24, 2017 - 04:50 PM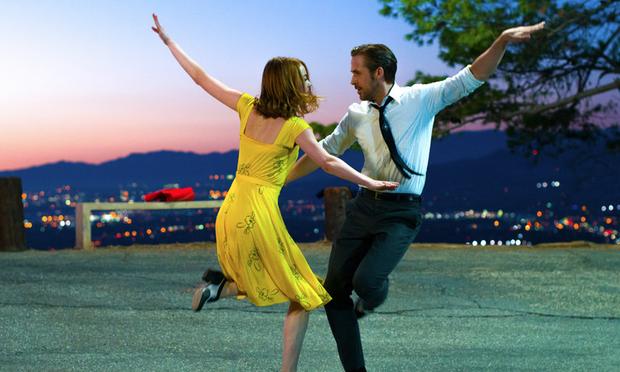 (David Bornfriend/A24)
Listen Above: John Schaefer takes us through the 2017 nominees for Best Score.
Early Tuesday morning, the Academy of Motion Picture Arts and Sciences released the complete list of this year's nominees. Naturally, our eyes were drawn to best documentary short subject — where Joe's Violin sat among nominees — and best original score. You can read more about Joe's Violin here, and catch up on the films in the latter category below. 
Jackie
Natalie Portman's portrayal of former First Lady Jackie Kennedy is accompanied by a stirring score from experimental composer Mica Levi. While the 29-year-old English musician has established herself as a fierce explorer of the avant-garde, her score for the acclaimed biopic relies on traditional instrumentation in more familiar settings. It's not breezy by any means, though the strings provide a brooding and uneasy texture that makes its presence felt throughout.
La La Land
After it earned a record-tying 14 nominations, it seems that the praise from critics and audiences alike won't ease up anytime soon. Jazz music is a character just as important as the leads and Justin Hurwitz's score doesn't shy away from those influences. But there's plenty of notable orchestral music to pass around, too. La La Land is a nostalgia trip for those Hollywood musicals of old, and whether it's through the dreamlike celesta in "Chinatown," or the lush, waltzing strings in "Planetarium," Hurwitz makes it work.
Lion
American composer Dustin O'Halloran and German pianist Hauschka collaborated to create a score for this film, based on the real-life story of Saroo Brierley. When he was young, Brierly was separated from his family in India and later adopted by an Australian couple. Two and a half decades later, he made a return home to his remaining family. Hauschka and O'Hallarn supplement the on-screen drama with an introspective score that matches the ruminations of a young man a long way from home.
Moonlight
There's not a whole lot said in Moonlight's 111 minutes. It's a cerebral film that — risky as this cliché may be — proves that a picture is worth several thousand words. Fans of the movie have expressed wonder at its gorgeous colors and cinematography, but the music really brings the story to new highs. Like the movie, Nicholas Britell's score is meditative in nature. The protagonist's raspy theme develops over the course of the film and at one point, Britell morphs it into something new using techniques from the hip-hop scene at home in the film's setting. Mozart even makes an appearance — a section from his Solemn Vespers makes an appearance during one heartbreaking scene.
Passengers
On Twitter, screenwriter Jon Spaihts revealed that he wrote Passengers while listening to the film scores of Thomas Newman and that it was a "dream come true" for the composer to work on the score for the new film. Newman got to work on the sci-fi flick by incorporating some electronic elements to evoke a "spacey" feel that can be at times anxious, curious and dreamlike. Consider listening to the score during your next stargazing session.
The 89th Oscars will be on ABC at 7 pm (ET) on Feb. 26.
More in:
James Bennett II is a staff writer for WQXR.
The WQXR e-newsletter. Show highlights, links to music news, on-demand concerts, events from The Greene Space and more.