Valentina Lisitsa Accidentally Made YouTube Think She's Glenn Gould
Wednesday, February 08, 2017 - 02:01 PM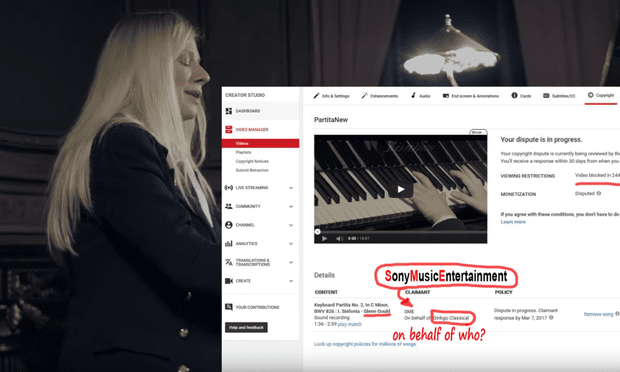 (Valentina Lisitsa/Youtube)
Can "doing your best" ever go wrong? If you're Valentina Lisitsa, it most certainly can. The Ukrainian pianist recently shared a beautifully executed performance of Bach's Partita No. 2, and she soon noticed there was a gaping musical hole in her video — 90 seconds of silence right in the middle of the piece.
So what happened?
Piano legend Glenn Gould recorded the Partita in 1957 for Columbia Masterworks, now Sony Classical Records. Like many discerning copyright owners on YouTube, Sony Classical uses a tool called "Content ID," which scans the audio of new uploads against files the copyright owner submits to YouTube. If new audio content matches something in the database, it's flagged and the owner can decide if it's a copyright violation. Still with us? Good.
In this case, when Lisitsa's Partita (say that three times fast) was scanned, it was matched to the 60-year-old Gould recording. Naturally, Sony blocked the offending portion. Simply put, Lisitsa played so well that she accidentally fooled YouTube into thinking she was Glenn Gould. This almost certainly has to do less with her playing and more with classical music's ongoing problems in the digital and streaming space but, as she notes, the error is a somewhat offhanded compliment.
Although Sony doesn't seem to be easing up on the block, Lisitsa plans to perform the Partita on tour, where she invites her fans to see for themselves whether she is "half as good as Gould."
For the curious and uninitiated, here's a video of Gould playing the same piece. It's not from the 1957 recording, but instead a documentary called "The Art of Piano." It's played a bit faster and comes complete with his signature humming.
More in:
James Bennett II is a staff writer for WQXR.
The WQXR e-newsletter. Show highlights, links to music news, on-demand concerts, events from The Greene Space and more.