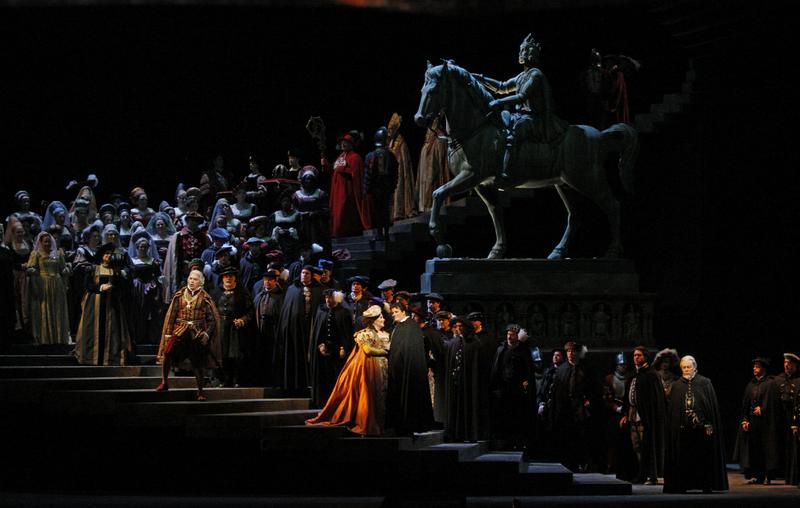 Join us Saturday at 1 pm for a live broadcast of the Metropolitan Opera's staging of Ernani, featuring soprano Angela Meade, tenor Francesco Meli and baritone Luca Salsi.
Update: The Italian-born Salsi replaces Plácido Domingo, who has cancelled, citing illness. Salsi performed Ernani in Rome with conductor Riccardo Muti in 2013 and is scheduled to sing it again in Salzburg this summer.
Considered one of the most stirring works of Verdi's early years, Ernani was a triumph at its Venice world premiere in 1844. Audiences are invariably captivated by the infectious energy of the music, which requires four principals boasting magnificent vocal beauty and technical prowess.
The macho yet romantic nobleman, Don Juan de Aragon, disguised as the bandit Ernani (Meli) loves the young, nobly born Elvira (Meade). She returns his love, but must endure the attentions of both the King of Spain, Don Carlo (Salsi) and Don Ruy Gomez de Silva (bass Dimitry Belosselskiy), her aged uncle who hopes to marry her himself.
Silva's protection of Ernani from the angry king's pursuits results in Ernani owing the old man a terrible debt, which precipitates the opera's tragic dénouement.
Cast:
Don Carlo: Luca Salsi
Don Ruy Gomez de Silva
:
Dimitry Belosselskiy