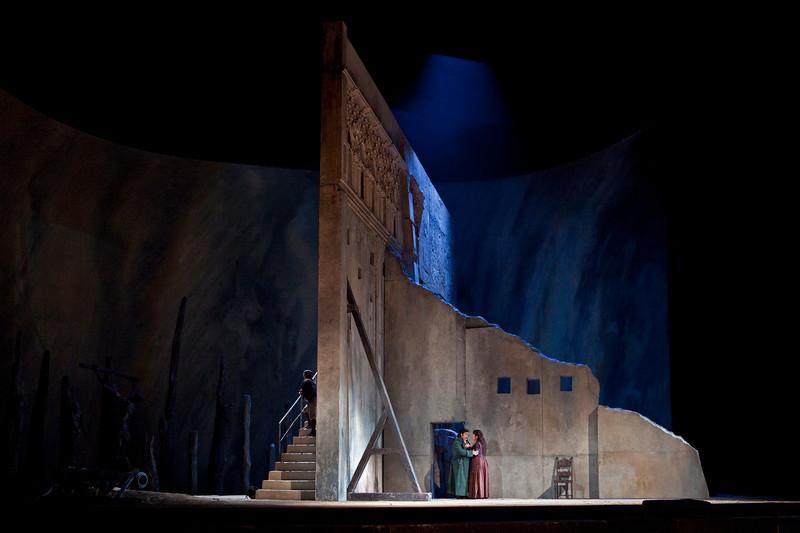 The troubadour Manrico and Count di Luna are bitter enemies. But in a twist of fate, they're both in love with Leonora — and they're brothers without knowing it.
Today at 1 pm, tune in for a broadcast of the Lyric Opera of Chicago's fall 2014 production starring Korean tenor Yonghoon Lee as Manrico, Hawaiian baritone (and recent Beverly Sills Artist Award winner) Quinn Kelsey as the Count, and American mezzo-soprano Stephanie Blythe as Azucena.
Emotions boil in this action-packed story that includes babies switched at birth, kidnapping, mistaken identity, poisoning, civil strife, witches burned at the stake, and a noblewoman who offers herself to a man she hates, to save the man she loves.
David McVicar's production, which updates the action to the Spanish Civil War era, debuted at the Lyric in 2006 and has since made the rounds to the Met and San Francisco Opera.
CAST:
Ferrando: Andrea Silvestrelli
Inez:  J'nai Bridges
Leonora:  Amber Wagner
Count Di Luna:  Quinn Kelsey
Manrico:  Yonghoon Lee
Azucena:  Stephanie Blythe
An Old Gypsy:  Kenneth Nichols
A Messenger:  Timothy Bradley
Ruiz:  Jonathan Johnson
CONDUCTOR:  Asher Fisch
CHORUS:  Lyric Opera Chorus
CHORUS DIRECTOR:  Michael Black
Below: Jeff Spurgeon breaks down 'Il Trovatore' in three minutes: