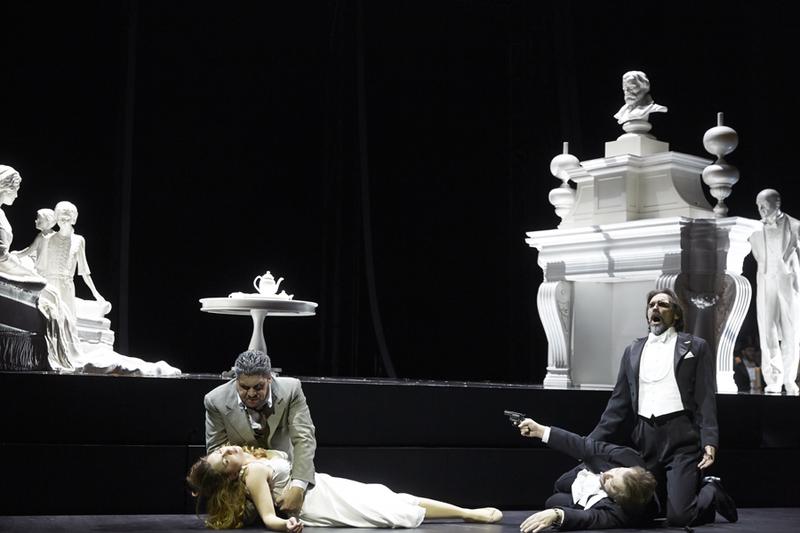 • Listen to the Operavore stream
Always drawn to the greatest and most challenging literature, Verdi based his compelling drama Luisa Miller on a play by Friederich Schiller, but it's not his most famous Schiller-based opera. That distinction would go to his sprawling drama Don Carlos. But of the two, Luisa Miller is surely the more straightforward and accessible, with its troubled love story plagued by corrupt politics, class conflicts and bitter family squabbles. In fact, the play's title provides appropriately operatic names for the first two acts of Verdi's drama. They're called "Love" and "Intrigue." The title of the final act is a bit more ominous, and perhaps even more operatic: "Poison."
Host Lisa Simeone presents this early, now-neglected gem by Verdi in a production from Switzerland's Lausanne Opera. The stars are soprano Lana Kos in the title role, with tenor Giuseppe Gipali as Rodolfo, in a production led by conductor Roberto Rizzi Brignoli.
Cast:
Luisa Miller : Lana Kos (soprano)
Rodolfo: Giuseppe Gipali (tenor)
Miller: Luca Salsi (baritone)
Count Walter : Giovanni Furlanetto (bass)
Wurm Daniel Golossov (bass)
Countess Federica: Marie Karall (mezzo-soprano)
Lausanne Chamber Orchestra and Opera Chorus
Roberto Rizzi Brignoli, conductor